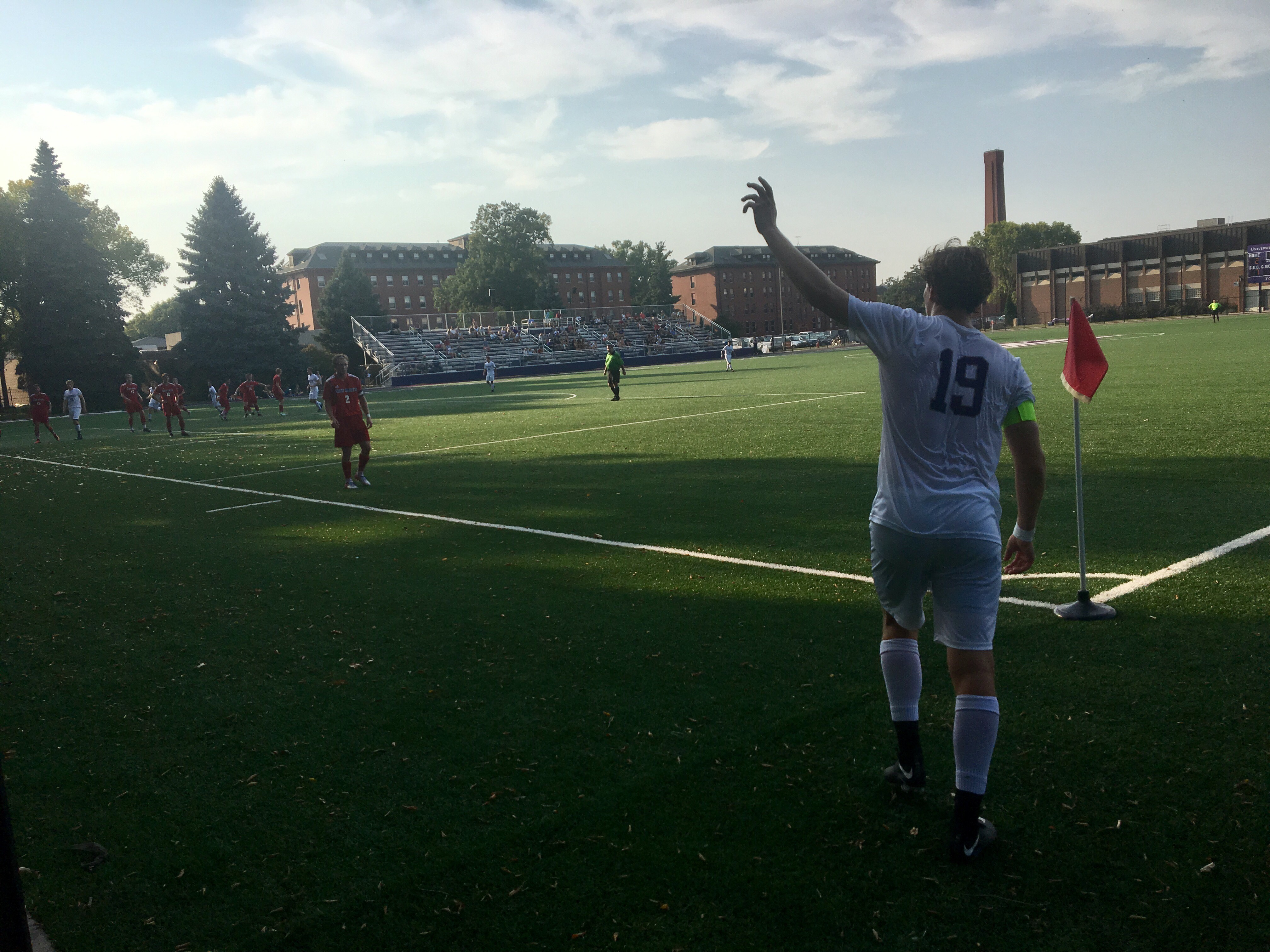 Midfielder Shae Bottum takes a corner kick late in the second half. Bottum assisted on the play that put the Tommies up 2-1. (TommieMedia/Gamiel Hall)
Forward Justin Oliver added to his MIAC-leading points total with a goal off an assist by midfielder Shae Bottum in the second half, bringing the St. Thomas men's soccer team to a 2-1 victory over Saint Mary's University of Minnesota Wednesday at home.
The Cardinals (4-1-0 overall, 0-1-0 MIAC) came into the fifth game of their regular season undefeated for the first time since 1986, good enough to put them at the top of the MIAC standings.
For both teams, this was the first conference game of the season.
The Tommies (5-1-0 overall, 1-0-0 MIAC) had many opportunities to get the ball in the net throughout the game, forcing eight shots on goal. Cardinals goaltender Nate Levy did all that he could to keep his team in the game.
"I knew this was going to be a difficult game, emotionally and physically," St. Thomas head coach Jon Lowery said. "Saint Mary's was not going to roll over."
Tommie forward Lucas Horton scored the first goal of the game with 8:15 left in the first half of play. Horton, a first-year student who was not a part of the starting lineup, gave his team its sole first-half goal.
"Our three freshmen who came on in the first half won us the game," Lowery said. "They brought the energy, they brought the spirit and they executed."
Early in the second half, Saint Mary's midfielder Sean Butcher scored a goal off an assist from Charles Reit that tied the game at one. The momentum began to swing in the Cardinals' favor.
"Saint Mary's is a team that's going to scrape and claw for points in this conference," Lowery said. "Nothing comes for free."
Just as the Cardinals began to put pressure on the 11th-ranked Tommies, Oliver scored the goal that put St. Thomas up for good.
Although the Tommies came out with a win, Lowery was not pleased with how his team played.
"We're not going to be great every night," he said. "We've talked a lot, as we've built this program, about how we have to win games in different ways. I'm not happy with how we won this game, but we did win it. And there's a lot of lessons to be learned."
The Tommies travel to Collegeville this weekend to take on rival St. John's.
"I've got a long list of to-do's to make this better for the weekend," Lowery said.
Gamiel Hall can be reached at hall0211@stthomas.edu.