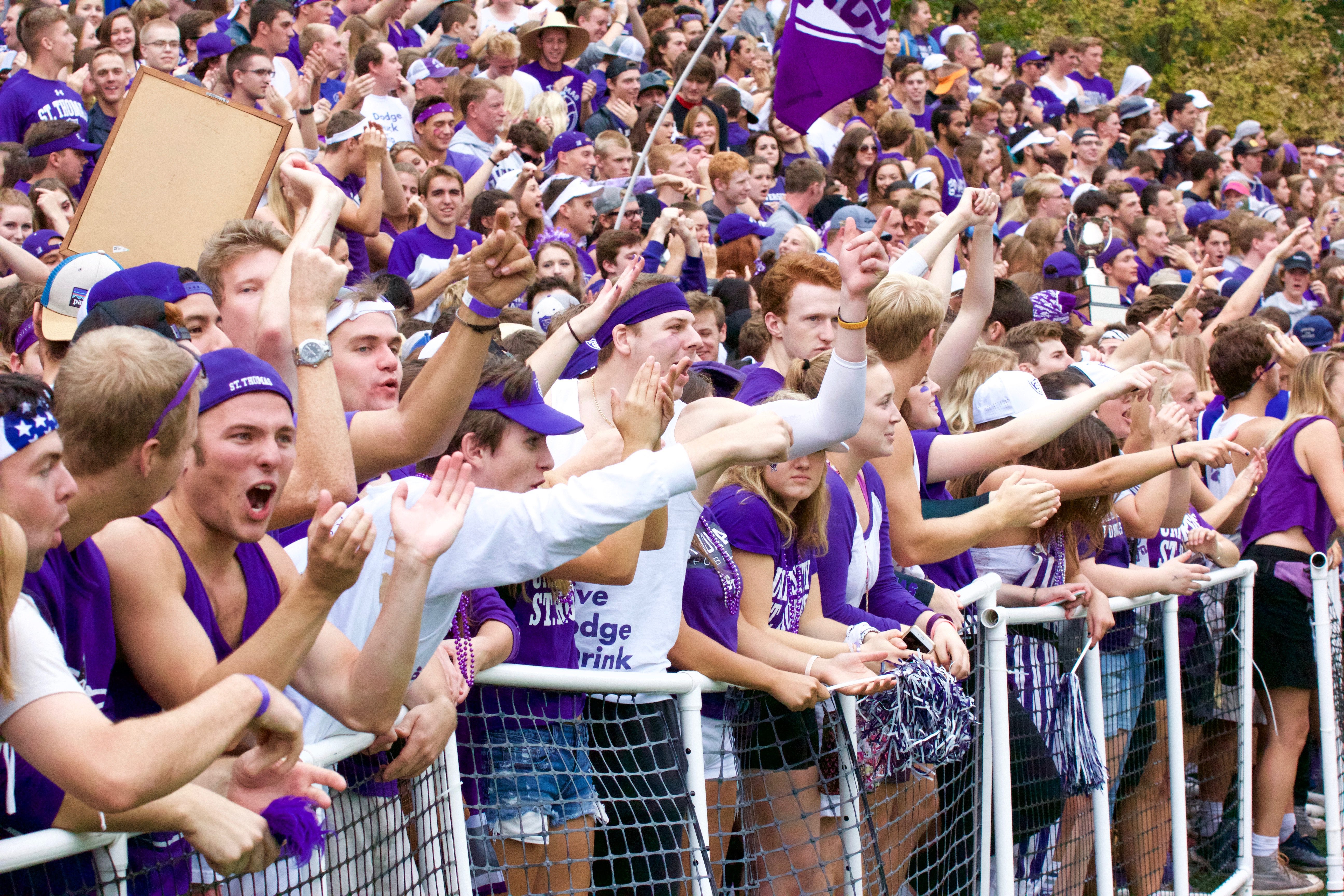 Now that I've matured, I am able to discern that bigger doesn't always mean better. The mansion down the street, for example, couldn't provide any more happiness for me than the small house on the corner in which I grew up. I am able to vividly recall past Christmas Eves at that house; each encompasses immeasurable laughter, boisterous games and, most importantly, an electric atmosphere. I grew to appreciate this small home because of all the memories everyone has made in it. I love it for all of the right reasons: the longstanding tradition, continuous fun and lasting memories. It is homegrown.
St. Thomas has decided to move this year's historic Tommie-Johnnie rivalry to Target Field, home of the Minnesota Twins, instead of playing their home game on campus. Target Field has a listed capacity of 39,504 while the largest attendance ever at a Tommie-Johnnie football game was 16,421 in 2015 at Clemens Stadium in Collegeville.
What makes this rivalry so special is the players, the long-standing Catholic institutions, and, yes, the loyal fans. This year, Tommie-Johnnie will shatter the NCAA D-III attendance record, which was set last October by Wisconsin-Oshkosh and Wisconsin-Whitewater at 17,535 spectators. To some, that also may justify the decision to move this game to Target Field and away from the St. Thomas campus.
I, for one, believe this game holds a much deeper meaning than attendance records or luxurious facilities that modern-day sports fans seem to obsess over.
Few can argue that Target Field isn't a beautiful facility — it may perhaps be one of the best in the U.S. However, one can argue that the merits of playing this historic rivalry at Target Field do not make up for the lost values upon which this rivalry was built.
Some may say the positives are that, instead of buying tickets in a twenty-five minute line, Target Field spectators already know exactly where to sit. The chaos of not being able to move in a grandstand will be replaced with tickets that reach up to $99 in some sections and much more comfortable seats. The lines for bathrooms and concessions will be much smaller and much easier to access. Your options for food won't be limited to a hot dog and cheeseburger because now you can get barbacoa tacos and salted caramel ice cream. Houses and lawns filled with college kids will be replaced with bars and much nicer accommodations.
Isn't the Tommie-Johnnie rivalry so special because it has been built from the ground up on these campuses? It is homegrown, community-based and has never needed to be bigger or better.
Playing Tommie-Johnnie at Target Field will diminish the important values of community and tradition that are embedded in the college campuses.
A game on the St. Thomas campus brings us a raucous atmosphere of 16,000+ people packed like sardines into O'Shaughnessy Stadium (a stadium named after a legend who many believe fueled the fire in this rivalry). On the way to the game, alumni will no longer be walking through a campus in which they made so many memories on. Nor will they be visiting dormitories that stand over 100 years old where they and their grandparents resided. The players and students will not be able to walk to the field from their dormitories.
As fans are parking their cars they won't be seeing streets and houses flooded with college kids wearing the colors of their schools and participating in, well, college kid activities, which is another aspect I believe contributes to the overall Tommie-Johnnie atmosphere and is positive to the overall experience. Seeing students throw the football around with music blasting in their backyards contributes positive to the atmosphere of the game. Often Tommie and Johnnie fans will mingle together at local houses. It provides that sense of community and that same organic feeling you get every year at Tommie-Johnnie. That is exactly what a college gameday entails, right?
Students won't be field level where they can essentially touch, smell and talk to the players. Instead they will be 8 feet high above ground level over the outfield wall. Fans can't storm the field after a win to hug and congratulate their classmates like we have seen in years past due to the MLB's strict zero-tolerance policy for rushing the field.
There is something uniquely beautiful about the ticket lines being completely out of control, a stadium built to seat 5,000 holding 16,000 on the grounds, having your ears ringing from so many people screaming after a touchdown, waiting in line 20 minutes to get a burger and a coke and having to park over a mile away to get to the game. Because that is exactly what makes Tommie-Johnnie so special. It's about the community, the atmosphere and the fact that we love it without the perfect facilities.
That is what Tommie-Johnnie is and that is what it has been for over a hundred years now. It is homegrown and it is about community. That is exactly why we all love it, right?
For now, St. Thomas has rented out the mansion down the street, but let's remember that this rivalry has never been about what is nicer, bigger or more convenient. It has been about piling into that small house on the corner of the street every single year even though it can get uncomfortably cramped, wild and loud. Let's not forget what makes Tommie-Johnnie so special.
Jack Dodd can be reached at dodd0013@stthomas.edu.