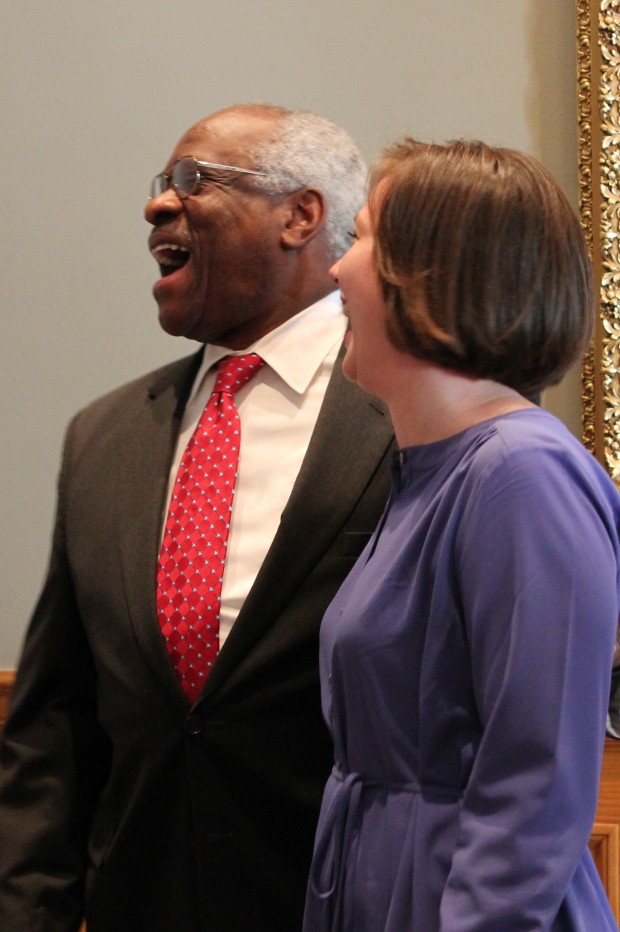 It's not every day that students get the opportunity to sit down with a Supreme Court Justice – especially one such as Clarence Thomas, who is known to shy away from the public eye.
But that's the opportunity 29 juniors and seniors at the University of St. Thomas had in May. As part of the Catholic Studies Leadership Intern Program's annual institute, students met and talked with Thomas last month in Washington, D.C., about how his Catholic faith plays into his work.
"We were told that he would be very private and that it would be hard to get him to talk," senior Allison Appleby said. "He just came in and just lit up the whole room. He was full of joy, and it was so great to see someone thriving who is living by these principles we're learning about."
Appleby was one of the students in the program who attended the intensive, week-long institute from May 23-29 in D.C. For students, the trip was a chance to synthesize what they had learned during the school year and see their lessons come to life on a national stage.
"The institute changed the way you looked at the whole year," senior Patrick Fisher said. "You're reading this book, and you're kind of learning these concepts of what it means to be a Catholic leader … All of a sudden these concepts that we'd been discussing, just, were real. And we could use them to talk about what these people were actually doing and how that impacts our lives."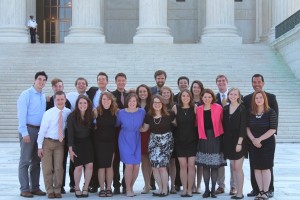 Each day started and ended the same: prayer and mass at the chapel each morning, prayer and reflection each night. But the schedule was packed: between busing to and from locations, meeting with well-respected Catholic leaders and lobbying for euthanasia prevention in front of Congress, Appleby said she was still sorting through everything she had learned and experienced a week later.
Interns begin the program their junior year, and typically stay on until the end of their senior year. After a fall semester of learning the principles of leadership, the spring semester is spent taking one of two routes: studying leadership in business and education and attending an institute in Chicago, or focusing on leadership in charity and attending an institute in Denver.
But this year, with the 2016 presidential election coming up in November, the program turned its attention to ethical leadership in politics. And where better to study politics in action than the nation's capitol?
"It's one thing to have those people from the community to come in and talk to us, but another to see it on a national level, on that scope of influence," Appleby said. "They throw a lot of information (at students) during the year, but it's really the institute that synthesizes it all."
The last time students had the opportunity to study Catholicism in politics and visit D.C. was in 2008, according to Gaby Quillan, program director of the Catholic Studies Leadership Intern Program. But Quillan said it's a change that will continue in the following years.
"I think after this trip it was very clear we should be doing this every four years," Quillan said. "We should add this into our two-year rotation. It's important. We're talking about leadership, how could we not cover politics?"
The lessons students learned from the institute are ones they will use in the real world.
"I keep going back to the mission of St. Thomas. I feel like the Catholic Studies Leadership Intern Program really encompasses everything that the mission statement of St. Thomas touches on – we are morally responsible leaders who are working skillfully to advance the common good," Appleby said.
"After going through this (program) and learning more about leadership and what it means to be a true leader, it just makes me see how important the mission statement is and how that's what we're preparing students to do in this program."
Written by Threesixty Journalism Scholar Danielle Wong