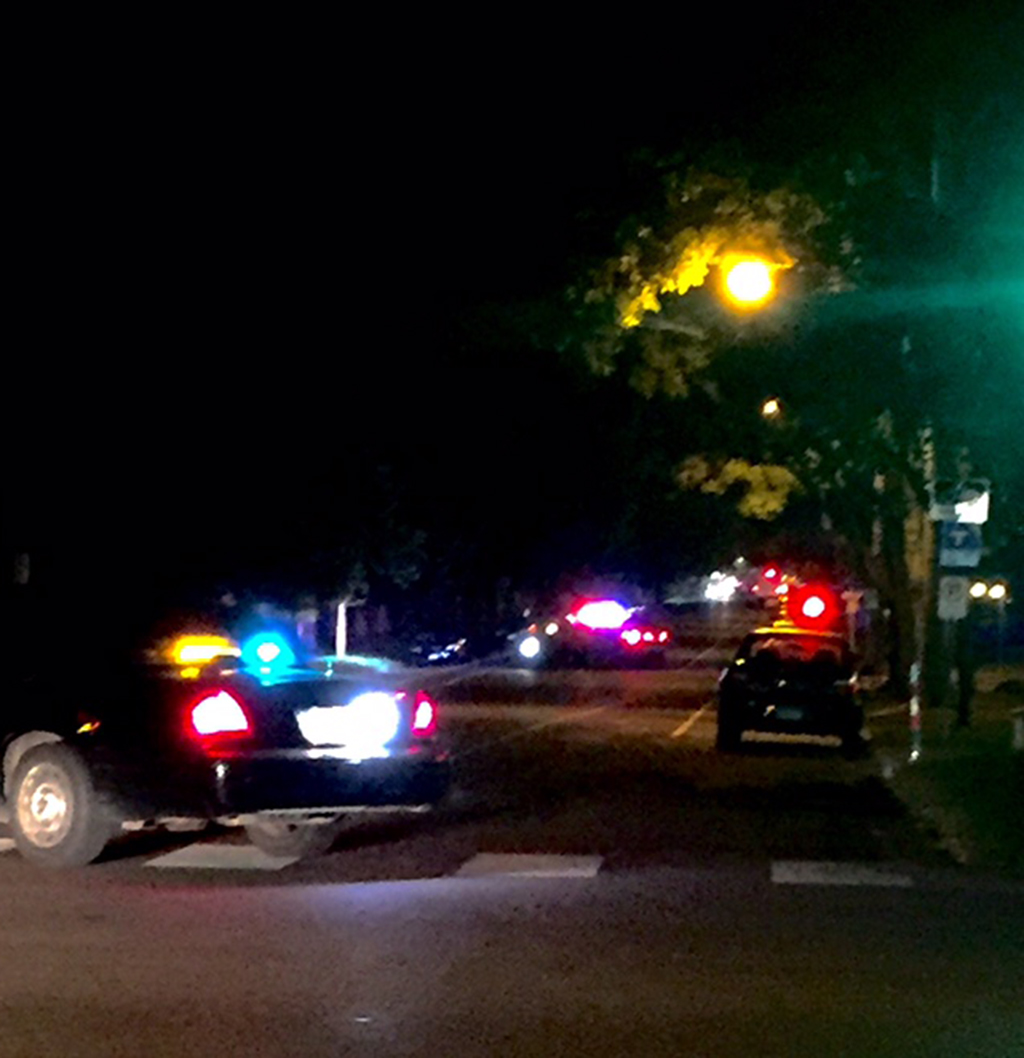 Police cars surrounded the St. Kate's campus Tuesday night as authorities searched for what they called a "hostile shooter." (Natalie Koerbitz/ TommieMedia)
A suspect involved in the Tuesday night shooting of a St. Catherine University security officer is still at large Wednesday morning.
The shooting occurred around 9:30 p.m. St. Paul police concluded a search in the wooded area on the southwest area of the campus Tuesday around midnight.
Police believe there is no current threat to the public "after more conversations with the victim," St. Paul police spokesman Sgt. Mike Ernster said.
St. Kate's campus security told students Tuesday night to stay indoors, and streets around campus were closed off as police cars and a Minnesota State Patrol helicopter surrounded the scene.
"If you are on campus, remain inside and lock doors," a message to St. Kate's students read. "If you are not on campus, stay away until an all clear is sent out."
Safest campus in MN where a shooting happens and the shooter is still on the loose. Stay safe St. Kate's students. pic.twitter.com/WBAKIQQmHi

— Kennedy Hellmann (@KennedyHellmann) September 13, 2017
An email Tuesday night from St. Kate's Public Safety called the suspect a "hostile shooter."
The security guard encountered the suspect in the woods and reported to public safety staff that he had been shot, according to a timeline in an email to St. Kate's students obtained by TommieMedia. A student worker trained in first aid applied pressure to the wound while they waited for paramedics to arrive.
St. Kate's officials notified students of the active shooter situation about an hour after the officer reported he was shot.
The security officer sustained a gunshot wound to the shoulder and was transported to Regions Hospital. His injuries are not life-threatening, police said.
SPPD investigating a shooting of security officer at St Kate's (2004 Randolph). Injury is non life threatening & investigation is ongoing.

— St. Paul Police PIO (@sppdPIO) September 13, 2017
Police announced on Twitter around midnight that the search for the suspect concluded, but the suspect was not located. St. Kate's sent out an all-clear message at 2:08 a.m.
Around midnight, St. Thomas Public Safety acknowledged the shooting on Twitter, but said there was "no current risk" to students. No emergency alert has been sent out to St. Thomas students.
The investigation is ongoing. Ernster called it an "evolving situation."