Sitting behind a desk playfully decorated with small toys and colorful trinkets, Dowling Hall Area Director Manuela Muñoz Alvarez is thoughtful and pensive as she recounts the time she responded to one of her residents in the midst of a mental crisis.
When she arrived at the student's room, she determined the situation was serious enough to call the counselor on duty. That night, she got lucky. The counselor on duty happened to be the student's regular counselor and was able to help her over the phone. After hanging up, Muñoz Alvarez said the student asked her to take things from the room that she planned to hurt herself with.
"She gave me a pair of scissors, she gave me a long iPhone charger cord, and she gave me a bed lamp that had a longer cord," Muñoz Alvarez said. "Her crisis started due to a roommate fight. There's all these different things that can trigger anyone at any point in time."
This story is nearly the worst-case scenario when it comes to mental health care in higher education, but it is something that is becoming exponentially more common. Universities across the nation are struggling to cope with a massive increase in mental health needs from students, and St. Thomas is not immune. The university is facing mounting waitlists for counseling appointments and dramatic spikes in Public Safety reports of mental health incidents.
To cope, the university isn't expanding current counseling services, but is rather looking for new options like adding a new online mental health service.
"All of the other schools, colleges and universities … across the country are talking about the same thing because the number of issues have risen," said Karen Lange, vice president of student affairs. "People are identifying mental health issues earlier, and there's not the same stigma that there used to be, so people are seeking out resources which is fantastic."
A National Crisis
The 2016 annual report from the Center for Collegiate Mental Health, which analyzes 139 college and university counseling centers nationwide, described 150,483 unique college students seeking mental health treatment. That is a 50 percent increase in students seeking treatment over last year. Those are just students who are receiving treatment and does not include students who are struggling with mental health issues but have not been treated.
The report also noted that "rates of 'threat-to-self' characteristics (nonsuicidal self-injury and serious suicidal ideation) increased for the sixth year in a row."
For years, the Center for Collegiate Mental Health and American Psychological Association have warned of a dramatic increase of students in need of mental health treatment. Many universities, including St. Thomas, are now feeling the impact of those numbers and are trying to find a way to meet those needs as traditional university counseling and psychology services become overwhelmed.
The numbers say that the student need is only mounting.
Junior Rachel McCrank knows firsthand the toll that college pressure can take on a student and has been using Counseling and Psychological Services at St. Thomas since her first year.
"In college, my depression definitely spiked. It's so easy to get lost when you have this pressure to find a path and take it," she said.
Staff cuts and waitlists at St. Thomas
The resources available to students at St. Thomas have seen some shuffling around lately. Last year, the former director of Counseling and Psychological Services Jeri Rockett retired as part of the university's mass retirement incentives program. The new director, Steve Mauer, said that the university decided not to hire a replacement, even as demand for therapists and counselors rose.
"The idea is that if Jeri left, could we get by with less staff?" Mauer said. "That was at a level much higher. It's just part of the ongoing strategic plan, coming out of the provost's office in terms of reallocating resources. The idea of the early buyout was to save money and to apply some of those funds to the strategic planning initiatives."
Mauer filled Rockett's position, but not hiring a replacement full-time staff member only increased the pressure on counseling and psychological services to meet the student need. Lange said that the decision not to replace Rockett was made because there was an alternative solution.
"At the university, we went through some reduction, so we had the opportunity for Dr. Rockett who had been here close to 30 years … to retire," Lange said. "And we knew we could allow that to happen without reducing our service to undergraduates."
The solution to fill the gap in service to undergraduates was to pull the only full-time counselor from the Minneapolis campus serving graduate students over to the St. Paul campus. This left the Minneapolis campus and the graduate students with a part-time counselor the university contracted in, who is only available for eight hours a week on Monday and Tuesday afternoons.
Currently, on the St. Paul campus, Counseling and Psychological Services has four full-time senior psychologists and three full-time interns who also meet with students. Even though service to undergraduates has remained steady, Mauer wants to hire more psychologists and counselors because he says the current amount of staff is not enough when the demand is skyrocketing.
"Give me my option, give me my choice, and we would hire three or four more psychologists, but we just don't — the university doesn't have the resources for that right now," Mauer said.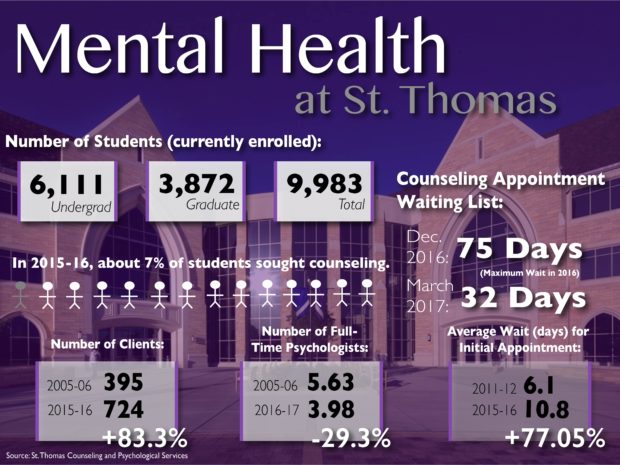 Since 2005, for example, St. Thomas has seen an 83.3 percent increase in the number of students seeking counseling, from 395 in 2005 to 724 in 2016. Counseling and Psychological Services, on the other hand, has seen a 29.3 percent decrease in full-time staff since 2005.
The result? A long waiting list for students seeking counseling.
The average waiting time for students to get their initial appointment last year was 10.8 days, compared to 6.1 in the 2011-12 academic year. During high stress times in the semester, however, that list can lengthen dramatically. Last December, for example, the waiting list was up to 75 students as finals approached. On an average day this March, it was only 35 students, but that is still too long, Mauer said. What might one day be a small issue such as roommate problems can develop into a much larger problem if it goes unaddressed.
Both Lange and Mauer clarified that a student in crisis is never put on a waiting list, but is rather seen immediately.
Though McCrank was able to get in the system years ago, she has seen the counseling services change as the waiting list has increased.
"I got lucky because I was already in their system," McCrank said. "I wasn't on the waiting list, I was already in. I have some friends that could be using psych services, but they can't because the waiting list is too long. … If somebody is in a bad place and has to wait three weeks I can see them spiraling."
New Options
The St. Thomas administration is not oblivious to the increased demand for mental health services. In fact, says Lange, finding a way to adapt and address it is a priority.
"We know that mental health impacts students' academic performance. We know that it impacts retention, so it's very important," Lange said.
The solution, however, isn't hiring more psychologists, as Mauer suggests. Instead, Lange said St. Thomas is looking to "expanding beyond our psychologists" and having more health care providers available. One step already taken in that direction is the partnership with Learn to Live, an online mental health support program where students can take assessments and work through modules that guide them through addressing stress, anxiety and more. It is free for students, anonymous, 24/7 and claims to be as effective as face-to-face therapy.
"As we were looking at this academic year and determining what is the best way to meet the needs of our students, we looked at this program and felt like this was a way to meet more students' needs," Lange said. "It's not necessarily a replacement of a psychologist, but it's just another opportunity to meet students' need in another way."
Lange said incorporating Learn to Live is cheaper than hiring a full-time psychologist and also serves student needs in a different way. For example, the 24/7 availability and anonymous nature is something she thinks will be helpful to many students. By February 8, just months after introducing it to St. Thomas last December, Lange said the number of students that looked at the site was 450, while 334 have taken the assessment and 270 students have enrolled in the program.
Muñoz Alvarez said while she can't exactly gauge the impact of the program on her residents yet, she has seen some students take advantage of it.
"I know currently of three students who I had been working with … who were just like 'I don't know what else to do,'" Muñoz Alvarez said. "Those students really seem to like it. When they're in what one of these students calls "the grind of it" at two in the morning they can grab for their phone and do a module."
Mauer said though it's hard to gauge whether the students on the waiting list are the ones using Learn to Live, it definitely provides a unique and viable alternative for students seeking therapy and counseling, especially for those uncomfortable with the face-to-face aspect.
"We know there are some students who don't want to come up here. Whether that's the stigma or the one-on-one talking to someone is too uncomfortable," Mauer said. "So this creates an option for students that we may not be reaching. We're also using it as an adjunct to the work that we're doing."
Still, as Lange acknowledged, Mauer said it can't replace a human.
"Anytime you're doing online, well, you're not dealing with a human being," Mauer said. "I'm biased of course, I think the personal stuff is extremely important. As good as the Learn to Live is, and it is, we know that most folks don't have purely just social anxiety, or they don't have nice, tidy depression as bad as it might be. There's all sorts of other stuff going on."
McCrank, who has friends on the waiting list and has been meeting with St. Thomas' psychologists since her first year, said she appreciates the attempt to meet with the demand, but doesn't think it is as effective, especially for students.
"It's nice that they're attempting to deal with the overflow, but I feel like we're so attached to the technology already that it's just really important to talk about the problems in person," McCrank said. "It's just not the same."
Besides Learn to Live, Lange said the university is exploring other options, such as hiring a social worker into the social work department, but to also meet students' needs. Right now, though, they are not considering hiring more full-time psychologists.
How does St. Thomas compare?
The National Association of School Psychologists recommends that schools employ one psychologist for every 500 to 700 students. At St. Thomas, with four full-time psychologists, three full-time interns and an undergraduate student body of 6,111, there is one psychologist for every 873 students, not meeting the recommended standard. The graduate student ratio is one counselor for eight hours a week for 3,872 students.
St. Thomas isn't the only local school not meeting this standard.
With a total student body of 3,700 and five counselors, Hamline University has one counselor for every 740 students, just above the suggested ratio.
St. Catherine's University has total enrollment of 4,786 students and only four full time counselors leaving a ratio of one counselor to approximately every 1,200 students. St. Kate's does, however, have a part-time counselor and a contracted social worker.
The combined schools of the College of St. Benedictine and Saint John's University have 3,640 students with seven counselors between the two schools. This results in an approximate ratio of one counselor for every 520 students.
Macalester has a student body of 2,108 with six counselors coming out to about 350 students per counselor, well below the standard ratio.
Though St. Thomas doesn't directly meet that standard, Lange believes that the university is well-equipped to deal with mental health needs by using other resources available, such as Learn to Live.
"We're much stronger than many of the other schools that we compete against," Lange said. "We have a lot more resources than a lot of other institutions. I'm very confident that we can continue to meet the needs of our students."
But with St. Thomas' ratio not meeting the recommended standard, and the number of students seeking mental support only increasing, spillover into other areas of the university is inevitable.
The spillover – Residence Life
The department most immediately affected when students' needs aren't being met by Counseling and Psychological Services is Residence Life.
Aaron Macke, associate dean of students and director of residence life, said he has definitely seen a dramatic increase in the number of students seeking support, especially in the past five years, but that they are well equipped to deal with it thanks to preparation.
"What has been happening is those of us in professional positions in the field of student affairs have been ramping up our education, training and preparation in order to support and serve students who are working through things," Macke said. "We're in a really good place to work through student's situations."
Both Macke and Lange offer high praise to the Residence Life staff, especially the student resident advisers, who are frequently the first to respond when a student is in crisis. Macke credits their training and preparation before the semester begins.
"What we ask them to do is be a good listener, to be present, to be caring, to be empathetic and to understand the resources," he said.
When an RA responds to a mental health situation, the next person to respond is usually a Public Safety officer on duty.
The Spillover – Public Safety
In reviewing 12 years of Public Safety records, TommieMedia found that between 2010 and 2017, the number of reports filed that involve some sort of mental health response, such as a student in crisis, has more than tripled. In 2012, for example, only 14 incidents were reported. In 2016, that number rose to 45. By April this year, 16 reports had already been filed putting 2017 on track to set a new record.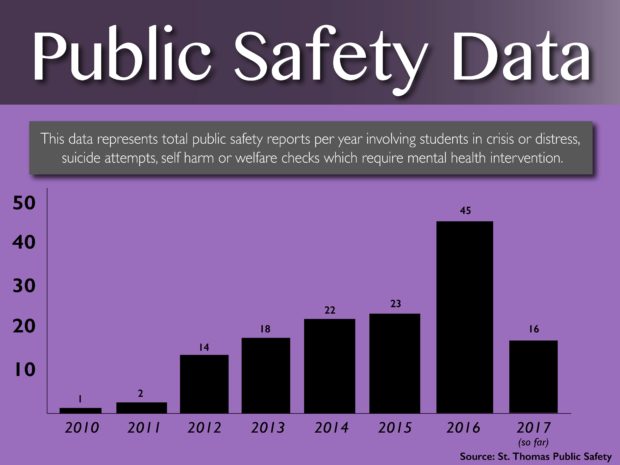 Associate Director of Public Safety Mike Barrett said that those numbers don't surprise him. The dramatic spike in mental health responses matches his own data analysis and what he and his officers have been experiencing.
"It's not surprising," Barrett said. "It is clearly alarming. The job now is to find the root cause of that and what we can do as result of that increase to better support our students."
Even though the Public Safety reports clearly demonstrate an increase in the number of mental health incidents, Barrett said that number could be much higher than what is visible. This is because many times parents will call Public Safety to do a welfare check on their child, but don't tell Public Safety the whole story of why they're concerned. Barrett said that many times when officers respond to these welfare checks, it is clear that there is a bigger issue.
"There may be data there that they're not telling us," Barrett said. "That certainly has manifested through multiple welfare checks for the same individual where it has come out that there's more to the story here … There's some that we may just not be able to tell if they're truly mental health related."
Without information from the family or a clear understanding of the situation, however, these incidents are simply reported as a welfare check, making the cause difficult to gauge. Barrett also noted that though the officers are there to serve the students, responding to these calls can take a mental toll on them as well.
"The raw data supports more calls for service," he said. "The back end is … it makes a psychological impact on our officers, primarily our overnight officers who are responding when a lot of the crises happen."
Barrett praises his officers for their ability to deal with these situations, but admits that there is a gap in their mental health response training. Being a private institution and not a municipality makes it difficult to get federal grants that help fund this training, Barrett said.
"Training we're always working on," Barrett said. "That for us would be a gap in response to mental health. … There are some barriers for us, but response hasn't changed. We still respond with the same care and safety to our students."
Moving Forward
As Public Safety and the other campus offices navigate and try to adapt to the wave of student mental health needs, some tangible changes are coming. Public Safety, for example, is revamping the way they collect and report data. Their new system will not only replace an outdated "clunky" system, but make analyses easier to help St. Thomas understand and respond to mental health crises, Barrett said.
Muñoz Alvarez said that in Residence Life, this issue is not going away anytime soon and will need to be a university priority for the foreseeable future.
"We continue to see this is a rising issue," she said. "We're doing the best we can with what we got."
Lange said that St. Thomas is not considering hiring more psychologists, as Mauer wants, but that could change. This semester, the American Psychological Association has been conducting an assessment of St. Thomas Counseling and Psychological Services that will help inform the university on what steps to take to adapt effectively.
For students who are currently seeking mental support, like McCrank, that can't come soon enough.
"If you have a campus of students that are mentally sick, your student body is going to fall apart," McCrank said. "It's to St. Thomas' own benefit to take care of their students."
Simeon Lancaster can be reached at lanc4637@stthomas.edu
Noah Brown contributed to this report.