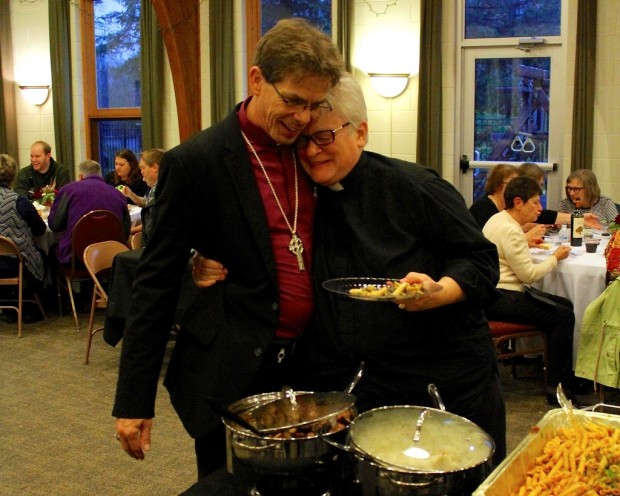 The Rev. Martin Shanahan calls himself one of those "lifer guys": He went to Catholic grade school, high school, minor seminary and major seminary. On Oct. 29, he was ordained bishop of Holy Cross Old Catholic Diocese of Minnesota.
Shanahan, who attended the graduate-level St. Paul Seminary at the University of St. Thomas, grew up Roman Catholic but switched to the Old Catholic Conference later in life, a faith that distinguishes itself from Roman Catholicism with its acceptance of female and LGBT clergy, same-sex marriage and its rejection of papal authority, among other differences.
Though Roman Catholicism and Old Catholicism are separate faiths, Pope Francis met with a conference of Old Catholic European bishops in 2014 to urge theological dialogue between the two churches.
Despite his break from SPS's Roman Catholic teachings, Shanahan looks back on his time at St. Thomas as one of great learning and "phenomenal teachers."
"I think my seminary experience at SPS was over-the-top awesome. I attribute probably 90 percent of my formation to that period of my life," Shanahan said. "The education I received at St. Thomas was the most invaluable gift I've received in my life."
During the summers of his undergraduate years, Shanahan worked as an intern with the Air Force as a chaplain candidate, where his first supervising chaplain was an Old Catholic priest. Shanahan recalls he "did not treat (his supervisor) well" because he resented that the priest had everything that Shanahan would have to forgo to become Roman Catholic clergy: a spouse, children and more.
At the end of his education at SPS, Shanahan declined ordination as a Roman Catholic priest, choosing instead to work for years in faith formation ministries at various Twin Cities churches. He eventually decided to become ordained in the Old Catholic Conference, inspired by his interaction from years ago with the priest in the Air Force.
"I started this beautiful Catholic community in Sunfish Lake," Shanahan said. "We started with 12 people (in 2008) and now we have 190 registered families."
On Saturday at his bishop ordination, Shanahan officially took command of the Holy Cross Old Catholic Diocese of Minnesota, which includes nine parishes across the Midwest, 17 clergy and three seminarians.
The Old Catholic Conference has four other dioceses in the U.S. and fourteen other parishes, according to the dioceses' websites.
Shanahan will add his duties as bishop onto his role as pastor at the Spirit of Hope church in Sunfish Lake, Minnesota and chaplain at the Minnesota Department of Corrections.
"How I'm going to do all that, I don't know. We're going to have to let the Holy Spirit kick in pretty soon," Shanahan said with a laugh.
Though one might think Shanahan's departure from the Roman Catholic church would cause bad blood between him and his old friends from SPS, Shanahan said he has remained close with many Roman Catholics since his conversion.
In fact, Father Larry Snyder, vice president for mission at St. Thomas, was one of Shanahan's classmates at SPS. "We're actually very good friends," Shanahan said.
Leaders from many faith backgrounds — Episcopalian, Presbyterian, Roman Catholic, Muslim and more — came to celebrate his ordination on Saturday, which Shanahan said was a great representation of his ecumenical mission.
"I'm a person that's about building bridges, not burning them," he said. "(The ordination) was a great celebration of the ecumenical nature of the Old Catholic church… It was a wonderful expression of how God reaches people in all kinds of ways."
Sophie Carson can be reached at sophia.carson@stthomas.edu