On the final night of St. Thomas graduate Shelby Henderson's first trip to Las Vegas, her life changed forever. She was just enjoying a Sunday night, watching Jason Aldean perform and celebrating her sister's birthday when she heard four gunshots that turned her weekend getaway into a nightmare.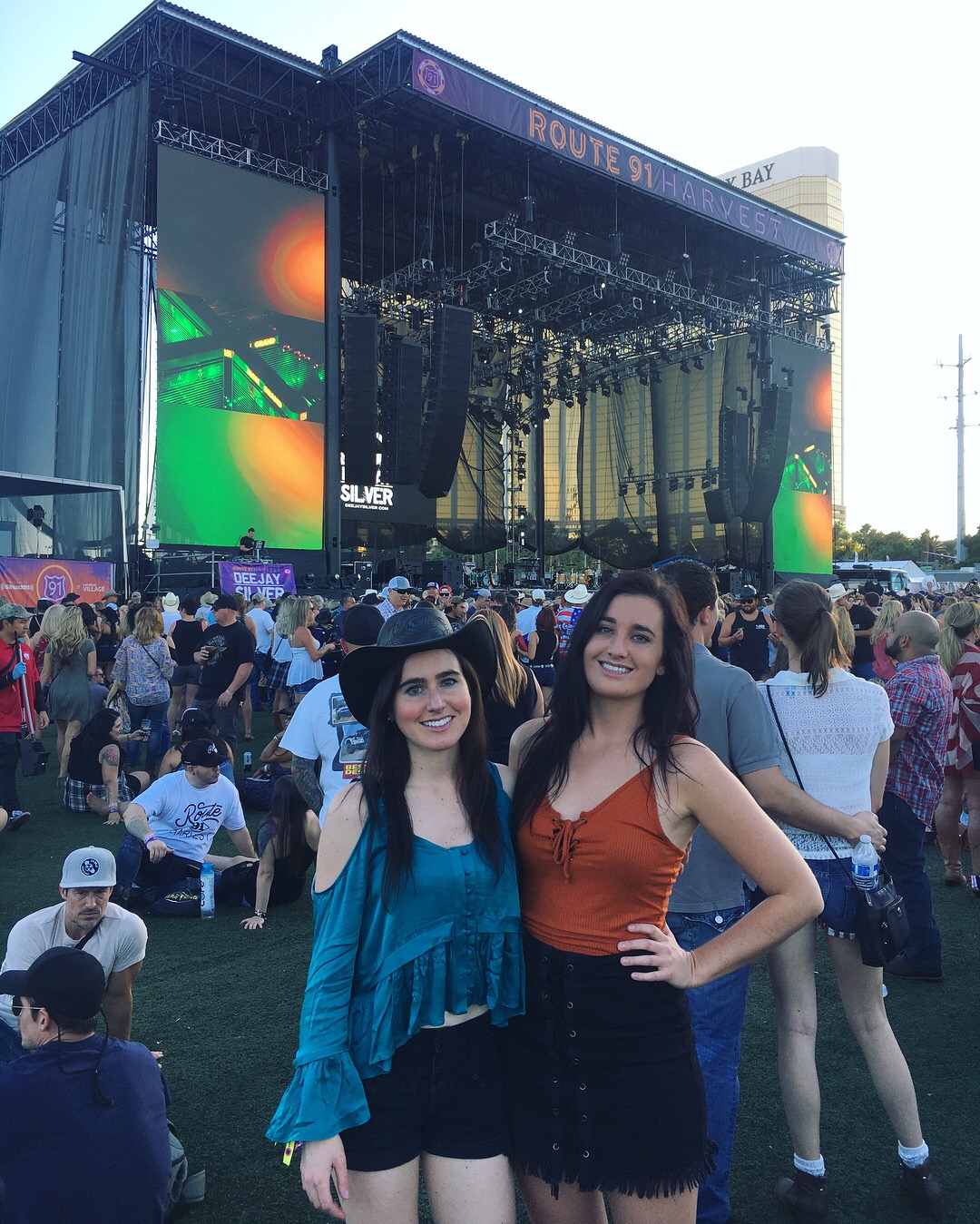 "It was like tunnel vision … your thought is just survival and to get away, and to just run," Henderson recalled. "You don't even have a sense of time. You're just running. As soon as I started running, I didn't know where my sister or her boyfriend were; I had no idea."
Stephen Paddock, a 64-year-old high-stakes gambler, opened fire on a crowd of 22,000 attending the country music festival Sunday night from the 32nd floor of the Mandalay Bay hotel casino. He killed 58 and injured nearly 500 before taking his own life. The victims killed ranged in ages from 20 to 67.
Henderson graduated from St. Thomas in 2017 with a degree human resources management and business communication. She, her sister, Sherilyn Henderson, and her sister's boyfriend planned the trip to Las Vegas spontaneously after Sherilyn won tickets to the sold-out Route 91 Harvest Festival.
It wasn't until Monday when she returned to Minnesota that Henderson's thoughts started pouring in.
"You have no time to think," Henderson explained. "You just have to run. And then, it's the next day and everything hits you, and you start thinking, What if I was standing over here? What if I fell? What if I passed out? What if I drank too much?
"We didn't drink anything that day, and I think that could have honestly saved us," she said.
Though escaping with only minor scrapes and bruises, Henderson has some emotional scars.
"(Monday) I was not feeling good … the realization hit, and it was just shock. We were shaking," Henderson said. "I sometimes keep having these flashbacks, but I feel a lot better."
She described her group's location during the concert as near the stage, completely surrounded by 22,000 other concertgoers.
Henderson knew something was wrong as soon as she heard the first shots. She said she instantly began sprinting toward an exit, focused only on getting to a shelter, which she explained is why she lost her sister and her boyfriend.
"The shots just kept going off, and we immediately just bolted the other way," she said. "You don't know how you're going to react in those situations until you're in it."
When she realized she separated from her sister and sister's boyfriend, she kept running, searching for safety and just hoping they would do the same.
Amid chaos, what Henderson explained felt "like an apocalypse," she recalled being surprised by the number of people standing around to help others.
"It's crazy how everyone came together after this event," Henderson said, "how everyone's helping one another … it was astounding."
As soon as she reached an exit, she joined a group of other women trying to find a safe shelter.
"I don't even know where we ended up. We just were trying to get in the opposite direction of the shots," Henderson said. "I didn't know where the shots were coming from. I didn't know if this guy was in the crowd. They sounded far away, but we didn't know if they were coming from the sky or what direction."
A couple welcomed Henderson and her group into their condo for safety. There, Henderson texted her sister and confirmed they were also safe. It was over two hours before they finally reunited. Henderson also called her father in Minnesota, who was confused at first because he couldn't find anything in the news, but then provided her with updates while she waited in the condo.
On her way back to the hotel where she was staying, Henderson recalled seeing bodies under white sheets and bloody bandages in the streets.
She said hours had passed before she finally regained her sense of security.
"There's just so much going on, and even if you're safe, you don't know that you're safe for sure," Henderson said, "The worst is the uncertainty, I would say. And helplessness."
Henderson is positive she'll never forget the horrific scene of that Sunday night in Las Vegas.
"I miss kind of being ignorant," Henderson explained.
However, she said witnessing so many people risking their safety to help others was something she'll also remember.
"There's so much more good in this world than bad," she said.
Lauren Andrego can be reached at lauren.andrego@stthomas.edu.