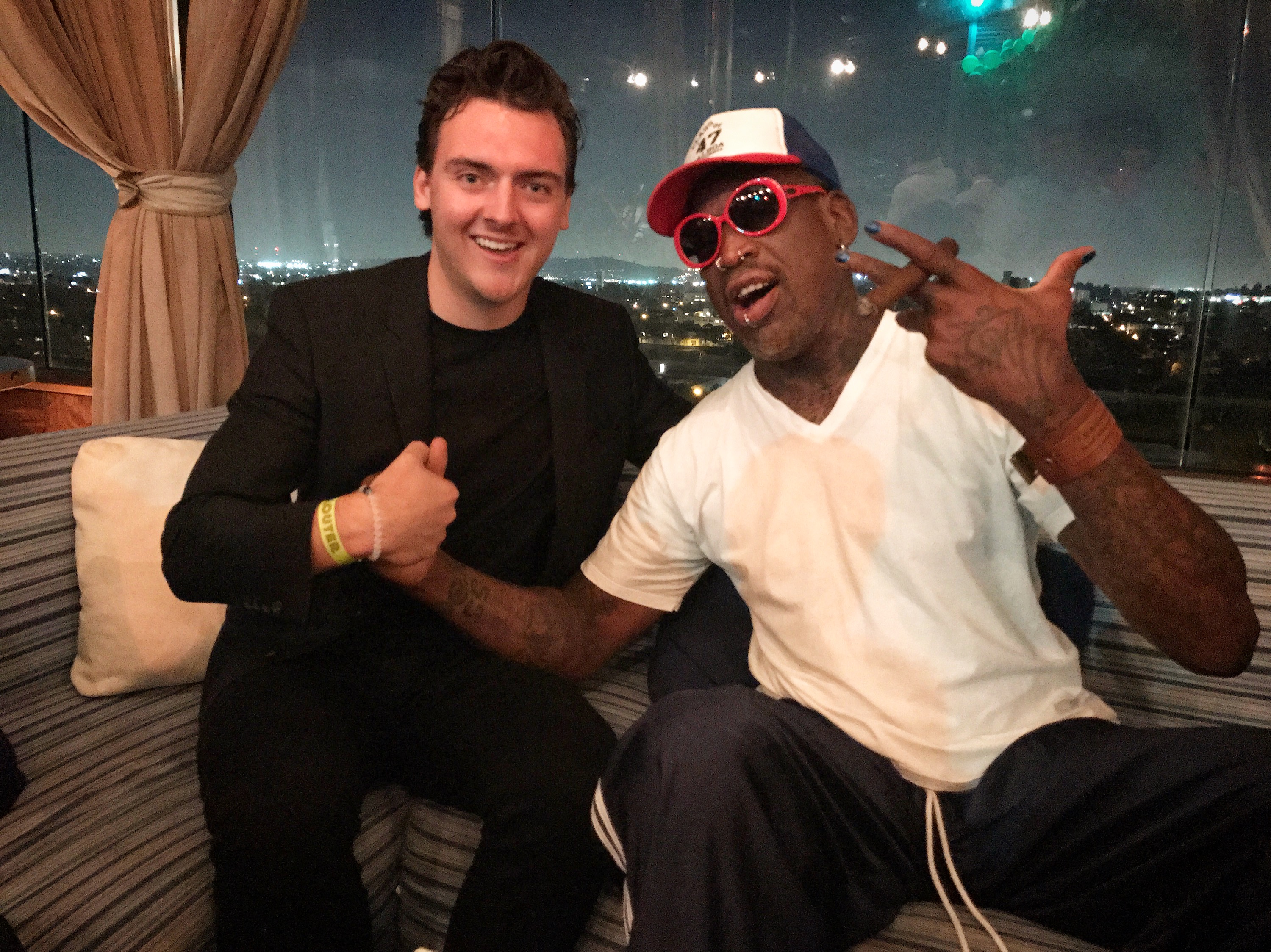 Dan Everist and retired NBA player Dennis Rodman shake hands at the Sprouter launch party. Everist launched Sprouter on Aug. 22 in Beverly Hills, Calif. (Photo courtesy of Dan Everist)
St. Thomas sophomore Daniel Everist has successfully launched Sprouter, an app that allows people to add each other on social media all at once.
The first night at college, Everist and some of his new friends were sitting around adding each other on different social media sites, one at a time. Everist thought there could be an easier way.
That night he went back to his dorm room and wrote a few notes about his idea. He then gave his uncle, a partner in an app company, a call. Everist explained the idea to his uncle and a team of app developers. After 11 months, Sprouter was created.
Users download the Sprouter app and make an account. They can add all their social media to the app's platform. Then Sprouter users can look up a person and see what social media sites they are on and chose to add them on any of the accounts listed.
"Next thing I know my and uncle and I are forming this company and I'm not really sure what's going on," Everist said.
In order to turn his idea to an app, Everist would have three to four video conference meetings a week and countless phone calls with the project manager from the app developing team. All of this while taking 16 credits at St. Thomas.
"Things got very tight with school, I just had to have really good time management," Everist said.
On Aug. 22, an official launch party for the app was held in Beverly Hills, Calif. In the first four weeks Sprouter has been live, they have received around 8,000 downloads between iOS and Android.
"We're starting all the digital marketing here in the next couple weeks," Everist said.
Everist and his team are planning a campaign launch in India this January.
India is one of the largest information technology hubs in the world and has the largest population per square mile in the world. This, combined with connections members of Everist's team have with Indian government officials and media personnel, makes India the next logical step for Sprouter.
"We're going to reach out to 30 million people," Everist said.
Brady Halbmaier can be reached at halb2084@stthomas.edu.