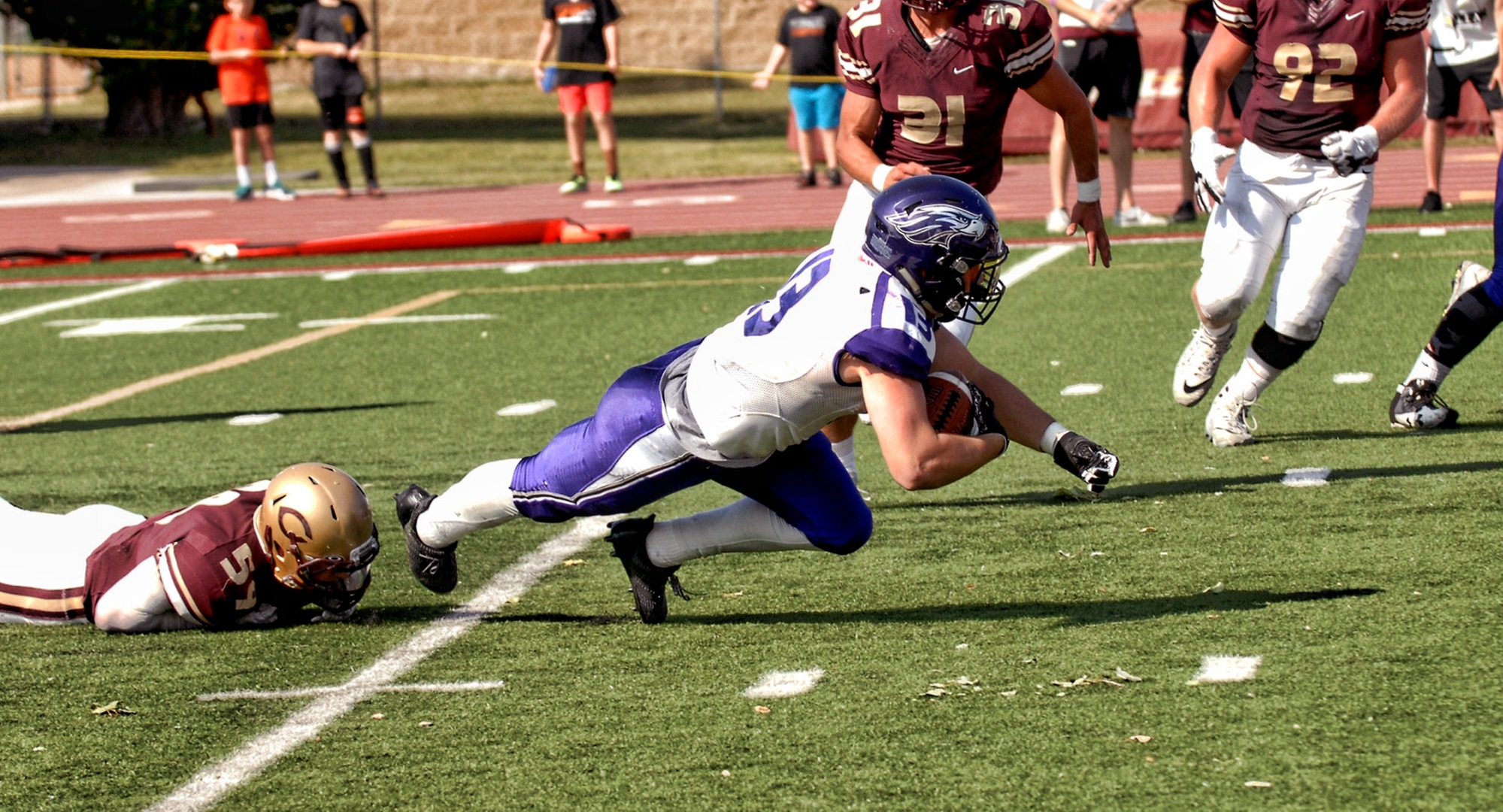 Chad Johnson rushed for 146 yards and two touchdowns, including the clincher with 9 minutes 58 seconds to play in the fourth quarter Saturday, to help Concordia (2-0) stun perennial Division III powerhouse Wisconsin-Whitewater (0-2) 25-17 at Moorhead.
Saturday's scores
Wis.-Stout 25, St. Thomas 22
Bethel 31, Carthage (Wis.) 0
Augsburg 38, Concordia (Wis.) 16
Concordia-Moorhead 25, Wis.-Whitewater 17
Lake Forest 48, Carleton 46
St. John's 49, Presentation 14
Luther 44, St. Olaf 20
Gustavus at Wis.-River Falls, late
Hamline at Macalester, late
Games Saturday, Sept. 16
St. Thomas at Carleton, 1:10 p.m.
Gustavus at Augsburg, 1 p.m.
Bethel at Concordia, 1 p.m.
St. John's at St. Olaf, 1 p.m.
Whitewater, ranked No. 15 in Division III football, is off to its first 0-2 start since 1999.
Johnson's first touchdown at 12:15 of the third quarter, a 71-yard dash, put Concordia up 18-10. Whitewater answered at 4:54 of the third to cut Concordia's lead to 18-17.
After Johnson scored again on a 4-yard run, Whitewater got the ball back twice but could not punch in the touchdown it needed. The first drive got to the Concordia 38-yard line before ending in a punt.
Concordia punted the ball back to the Whitewater 34 with 3:01 to play. Whitewater quarterback Cole Wilber completed 4 of 5 passes and ran for nine yards to get the ball to the Concordia 6-yard line first and goal. Josh Ringelberg ran the ball twice to the Concordia 1, with linebacker Alex Berg stopping him a yard short of the endzone with 28 seconds on the clock. Berg and defensive lineman Kirby Stewart stopped Whitewater's Tony Gumina for no gain, then on fourth down, Berg threw runningback Drew Patterson for a two-yard loss.
Macalester 23, Hamline 14
Macalester quarterback Christian Adams completed 24 of 41 passes for 311 yards ad two touchdowns, and defensive back Cash McGregor led an opportunistic defense as the Scots defeated Hamline under the lights at Macalester Stadium in their annual Paint Bucket game.
Macalester (2-0) defeated Carleton last week for the Book of Knowledge trophy, the first time the Scots have won both trophies in the same season.
McGregor recovered a fumble on Hamline's first play from scrimmage, leading to a 13-yard scoring pass from Adams to Sam Bordo. McGregor intercepted Pipers quarterback Justice Spriggs on Hamline's next series, although the Scots couldn't take advantage.
Late in the game, Hamline (1-1) moved the ball to the Macalester 18-yard line, but the Scots held on downs to maintain a 9-point lead. The Scots then drove 71 yards to wipe out the remaining 9:13 on the clock.
Spriggs completed 20 of 30 passes for 245 yards and touchdown passes of nine yards and five yards to Josiah Harris, but he was intercepted twice.
Wis.-River Falls 20, Gustavus 12
With its rushing game almost nonexistent, Gustavus (1-1) had to rely on the passing of quarterback Michael Veldman in a night game at River Falls, Wis. Veldman completed 29 of 47 passes for 334 yards, but the Gusties could manage only two Brendan Boche field goals until Veldman connected with Josh Kirk on a 42-yard scoring play with two minutes left in the fourth quarter.
River Falls (1-1) outgained Gustavus 166-29 on the ground and got two touchdowns from running back Michael Diggins.
Carthage (Wis.) 31, Bethel 0
Quarterback Kyle Friberg hit on 14 of 23 passes for 298 yards and three touchdowns, including a 54-yard scoring strike to Manny Jones in the third quarter as Carthage (2-0) dominated Bethel at Kenosha, Wis.
The Red Men defense held Bethel (0-2) to 21 yards rushing and 162 yards total offense. Carthage intercepted two passes, including one in the fourth quarter that nickel back Shawntrel Garner returned 84 yards for a touchdown.
Carthage has shut out its first two opponents for the first time since 1921.
Augsburg 38, Concordia (Wis.) 16
Quarterback Quinn Frisell hit wide receiver Nick Heenie with a 63-yard scoring pass with 5:32 to play in the second quarter to give Augsburg (2-0) the lead for good, then the Auggies dominated the second half for the victory at Minneapolis.
Frisell and Heenie also hooked up for a 37-yard touchdown play early in the second quarter for a 14-6 lead. But Concordia (1-1) bounced back with a touchdown and a field goal in less than two minutes. The field goal came after Frisell was intercepted at his own 28-yard line, and it gave Concordia a 16-14 lead with 5:54 to play in the second quarter.
Frisell hit Heenie for the go-ahead score on the first play after the kickoff. In the second half, Frisell ran eight yards for a touchdown and hit Ray Guyton Jr. with a 60-yard scoring pass. Tyler Hanson added a 34-yard field goal.
Frisell completed 14 of 34 passes for 236 yards and the three touchdowns but was intercepted twice. Frisell also ran for two scores. Heenie's two touchdown catches gave him an even 100 yard; Guyton caught six passes for 99 yards.
Lake Forest 48, Carleton 46
Carleton quarterback Christian Zaytoun through two touchdown passes in the final 1:14 to pull the Knights to within two points, but his conversion pass to tie fell short at Lake Forest, Ill.
A Lake Forest field goal made the score 48-34 with 3:51 to play. On the ensuing drive, Zaytoun overcame a sack and a 15-yard offensive interference penalty on third and goal by hitting Emanual Williams with an 18-yard scoring strike with 1:17 to play. But the point-after kick was blocked, making the score 48-40.
Carleton (0-2) held the Foresters on downs and got the ball back with 28 seconds to go. Two 15-yard penalties on Lake Forest put the Knights within striking distance, and Zaytoun made the Foresters pay with a 30-yard touchdown pass to Dane Birkeland with no time on the clock. His pass for two points did not connect.
Zaytoun completed 34 of 53 passes for 458 yards and three touchdowns, with one interception. He also ran one yard for a score.
Luther 44, St. Olaf 20
Luther quarterback Ian Kuykendall rushed for 89 yards and two touchdowns, and runningback Nick Slavens added 92 yards on just five carries to lead Luther (1-1) past St. Olaf (1-1) at Decorah, Iowa. Slavens gained 55 yards on one play, a touchdown run midway through the third quarter that gave Luther a 24-14 lead. He also caught a 21-yard scoring pass form Brady Letney to open the scoring at 10:11 of the first quarter.
St. Olaf quarterback Ricardo Johnson III completed 21 of 40 passes for 295 yards and a touchdown.
St. John's 49, Presentation (S.D.) 14
Evan Clark ran 69 yards for a touchdown and Dusty Krueger added a 61-yard scoring dash in the first quarter at Collegeville, Minn., as St. John's (2-0) routed Presentation College (1-1), an NAIA team from Aberdeen, S.D.
Krueger gained 144 yards on eight carries. Clark's long run represented his total offensive output for the day.
Johnnie quarterback Jackson Erdmann pass for two touchdowns, and Brice Johnson ran for two more.