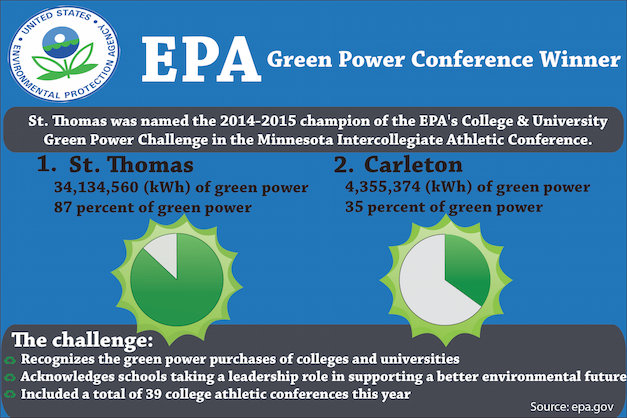 The Environmental Protection Agency has named St. Thomas the top user of green energy among schools in the Minnesota Intercollegiate Athletic Conference in 2014-2015.
This is the fourth consecutive honor for the university, which increased green power usage by 5 percent from the 2013-2014 competition. St. Thomas now gets 87 percent of its electricity from renewable sources like wind, solar power and geothermal energy through a program from Xcel Energy.
"It's just a major choice that the university makes to buy energy the ordinary way or buy it in a way that makes sense for the future," Director of Environmental Studies Elise Amel said.
James Critchfield, director of the EPA's Green Power Partnership, lauded St. Thomas' energy choices in an email.
"By choosing to use green power, the University of St. Thomas is cutting its carbon footprint and setting an example for others to follow," he said.
St. Thomas' yearly green energy usage adds up to more than 34 million kilowatt-hours, or enough to power more than 3,000 average American homes annually, according to the EPA. Amel said that with its energy choices, St. Thomas is a role model for other schools with its support of zero-emissions electricity.
"St. Thomas is focused on working toward the common good, and so being a leader in foresight and vision for what that common good looks like is really important," she said.
Thirty-nine collegiate conferences and 90 schools participated in the 2014-2015 challenge, with the largest green power usage in the country coming from Penn State at more than 200 million kWh. Together, all participating schools use almost 2.4 billion kWh of green power.
Sophomore Mattie Davenport, a member of the UST Sustainability Committee, knows that because college campuses are such usage-intensive areas they can strongly affect the surrounding environment.
"It makes such a big impact in our community that we can really make an impact positively or negatively depending on what we do," she said.
St. Thomas currently pays a premium to Xcel for the use of green power but may soon switch to getting energy from solar farms, according to former Coordinator for Recycling and Central Receiving Bob Douglas. The university would get a rebate for using solar farms.
Elena Neuzil can be reached at neuz3833@stthomas.edu.