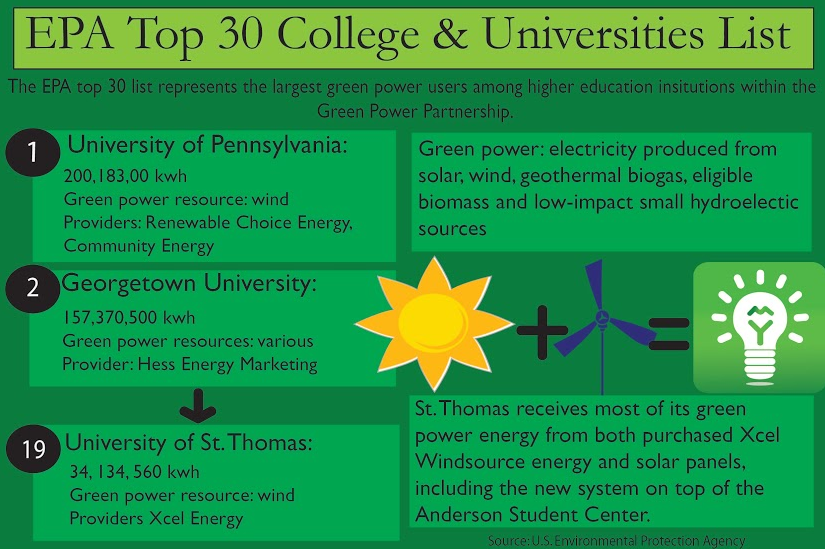 St. Thomas was ranked No. 19 on the Environmental Protection Agency's Green Power Partnerships top 30 list among colleges and universities nationwide, released Jan. 26.
The list is based on the total amount of energy used each year from sustainable sources. St. Thomas currently uses 34,134,560 kilowatts per hour, while the No. 1-ranked University of Pennsylvania uses 200,183,000 kilowatts per hour.
Bob Douglas, coordinator of Recycling and Central Receiving, said he believes the school sets an example for other colleges and universities.
"I'm happy that (St. Thomas) is getting recognized nationally for its commitment to reduce the use of carbon-based energy," Douglas said. "Our position in the EPA Green Power listings shows that we are leading the way among state colleges and universities in our use of alternative energy."
Douglas also said the ranking will give the university more recognition as a whole and increase students' awareness of St. Thomas' environmental priorities.
The decision to use Xcel Windsource energy on campus plays a bigger role in the St. Thomas community than most students and faculty are aware of, according to Douglas.
"We know that the continued dependence on carbon-based fuel not only heats up the environment, but the resulting warming cascades into an increase of disease, invasive species, catastrophic weather episodes … while reducing the clean air necessary to enjoy a healthy and vital lifestyle," Douglas said. "Our present energy choices help determine the kind of future students of St. Thomas will live in."
According to EcoWatch.com, Minnesota is one most environmentally friendly states in the country, with both Minneapolis and St. Paul earning a top 10 spot in the nation's greenest cities. St. Paul is ranked eighth, and Minneapolis is ranked 10th.
Sophomore Melanie Bussan said she is proud of the contributions St. Thomas has made.
"I think it says a lot about us as a community that we really strive to lessen the impact that we have on the environment and to be more conscious of the world around us," Bussan said.
St. Thomas recently added new solar energy panels to the Anderson Student Center that could eventually boost its overall ranking. The panels went online one month ago, and their contribution will be seen on the EPA colleges and universities list in January of 2016.
"The decision to invest in alternative fuels illustrates our desire to make the future environment a better place for all of our students and communities," Douglas said. "Our environment is the platform on which the future will rest."
Travis Swan can be reached at swan9954@stthomas.edu.