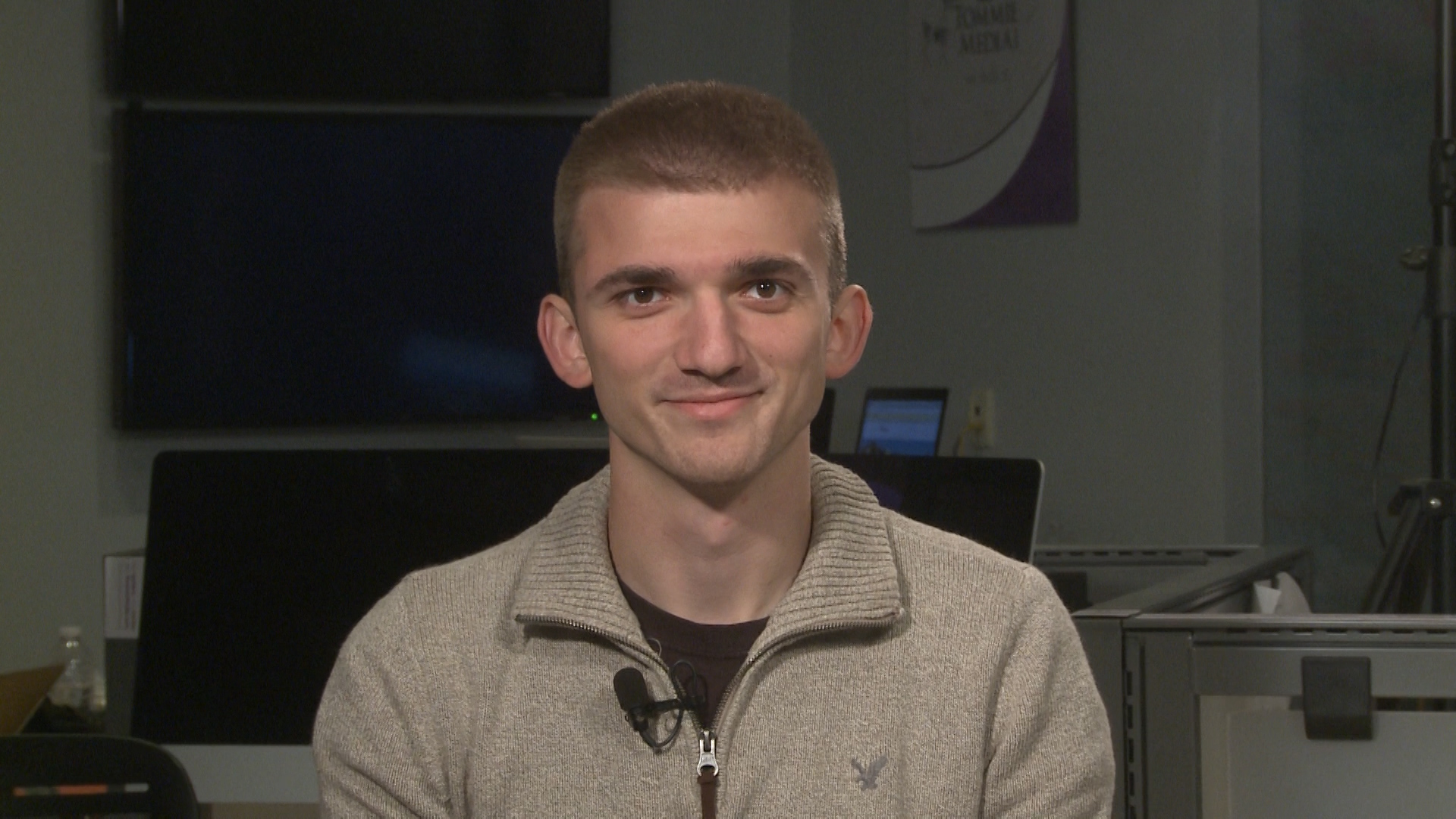 This is News in :90 for Wednesday, Sept. 27, 2017.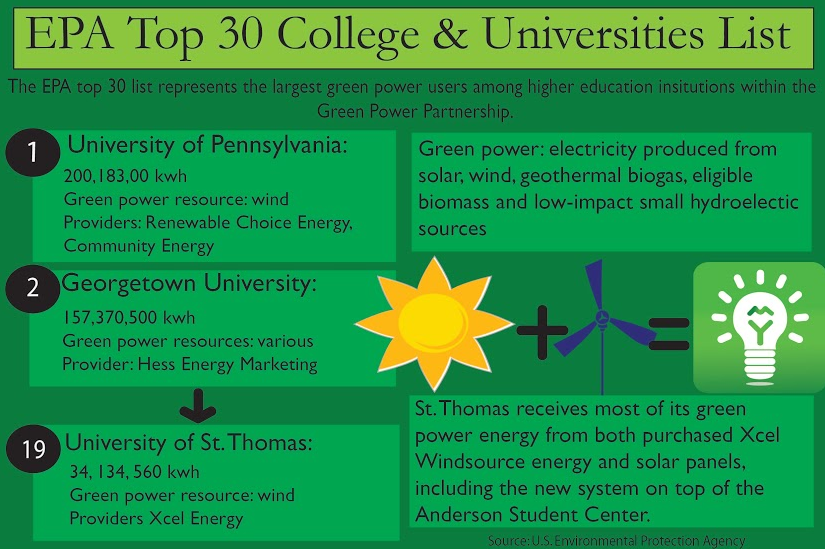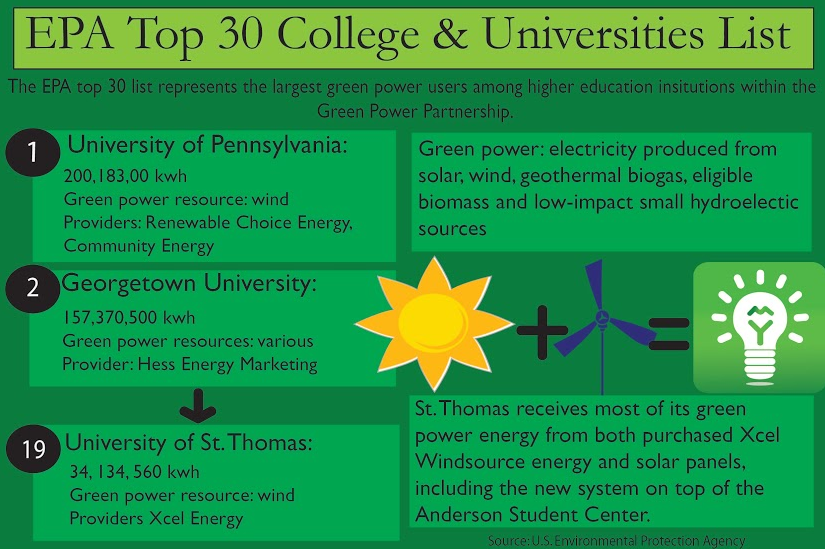 St. Thomas was ranked No. 19 on the Environmental Protection Agency's Green Power Partnerships top 30 list among colleges and universities nationwide, released Jan. 26.
The list is based on the total amount of energy used each year from sustainable sources. St. Thomas currently uses 34,134,560 kilowatts per hour, while the No. 1-ranked University of Pennsylvania uses 200,183,000 kilowatts per hour.
Bob Douglas, coordinator of Recycling and Central Receiving, said he believes the school sets an example for other colleges and universities.
"I'm happy that (St. Thomas) is getting recognized nationally for its commitment to reduce the use of carbon-based energy," Douglas said. "Our position in the EPA Green Power listings shows that we are leading the way among state colleges and universities in our use of alternative energy."
Douglas also said the ranking will give the university more recognition as a whole and increase students' awareness of St. Thomas' environmental priorities.
The decision to use Xcel Windsource energy on campus plays a bigger role in the St. Thomas community than most students and faculty are aware of, according to Douglas.
"We know that the continued dependence on carbon-based fuel not only heats up the environment, but the resulting warming cascades into an increase of disease, invasive species, catastrophic weather episodes … while reducing the clean air necessary to enjoy a healthy and vital lifestyle," Douglas said. "Our present energy choices help determine the kind of future students of St. Thomas will live in."
According to EcoWatch.com, Minnesota is one most environmentally friendly states in the country, with both Minneapolis and St. Paul earning a top 10 spot in the nation's greenest cities. St. Paul is ranked eighth, and Minneapolis is ranked 10th.
Sophomore Melanie Bussan said she is proud of the contributions St. Thomas has made.
"I think it says a lot about us as a community that we really strive to lessen the impact that we have on the environment and to be more conscious of the world around us," Bussan said.
St. Thomas recently added new solar energy panels to the Anderson Student Center that could eventually boost its overall ranking. The panels went online one month ago, and their contribution will be seen on the EPA colleges and universities list in January of 2016.
"The decision to invest in alternative fuels illustrates our desire to make the future environment a better place for all of our students and communities," Douglas said. "Our environment is the platform on which the future will rest."
Travis Swan can be reached at swan9954@stthomas.edu.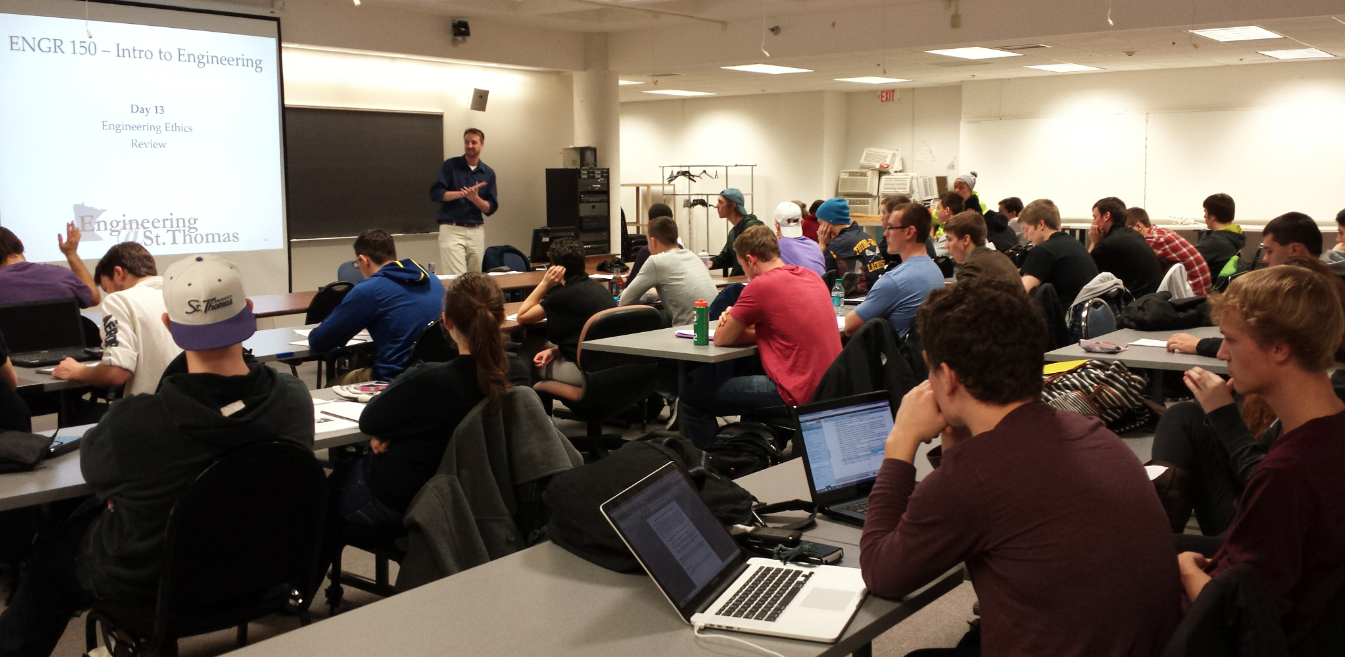 St. Thomas announced Monday that its school of engineering received a $1.5 million grant from Xcel Energy for a Microgrid Research and Testing Center.
The grant will give the engineering program access to a small-scale, low environmental impact energy production facility, allowing a variety of technologies to be used and tested.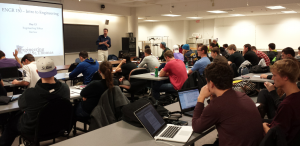 Don Weinkauf, School of Engineering dean, said the facility will allow the program to go beyond just studying concepts and instead apply them to real-world research.
"There's a big value there between an idea and actually doing it in the marketplace, and the facility we're going to develop is going to be key in helping people realize what's available in the market," Weinkauf said.
Weinkauf proposed the center last year along with Greg Mowry, electrical engineering associate professor, who will be responsible for the facility's construction and operation. The Minnesota Public Utilities Commission approved the grant but has asked Xcel Energy to raise the total to $2.1 million
The center will host research on distributed energy sources such as wind turbines, energy storage methods, biofuel and fuel cells. Weinkauf said students will have a large role in this research.
"The grant is built into an educational curriculum development," Weinkauf said. "The students will be able to see what's going on inside of this facility on a daily basis."
Senior Stu Lombardo said the center will enhance the opportunities of St. Thomas engineering students.
"It adds more traditional opportunities to what we already have," Lombardo said. "There is not as much real world experience available to us."
Lombardo said the Xcel Energy grant shows that St. Thomas' engineering program is developing a good reputation in the marketplace.
"The biggest thing is that these people are beginning to recognize St. Thomas as a very high-caliber program," Lombardo said. "It's really a compliment to our school and program."
This center will bring further attention to St. Thomas' program and attract top engineering students.
The facility is expected to help St. Thomas in its goal to become carbon neutral by 2035, as well as supporting the development of renewable and alternative sources of electrical power by outside companies.