For St. Thomas students who can't help but overhear ridiculous conversations or who just have to share a friend's awkward, semi-coherent text from the previous night, St. Thomas freshman Grant Spanier has created the perfect outlet.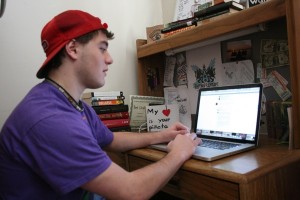 Just log onto Facebook and post the dirt on St. Thomas' very own Texts from Last Night page or Overheard at UST page.
"There's a lot of funny stuff on [them]," Spanier said. "It's getting pretty big."
Big might be a bit of an understatement.
In their early stages, the two groups combined did not reach a thousand members. Now Texts from Last Night has 1,626 members itself and Overheard at UST has 2,327 members.
Though quickly growing in popularity, these sites are not a new idea. Both stem from the popular Web sites Texts from Last Night and Overheard in Minneapolis. Each site essentially exists for people to anonymously spread their cyber dirt, texts they have received or uncommon conversations they have heard, while Web visitors get a good laugh. Internet anonymity leads to posting candid conversations about just about anything, and users can vote on their favorite posts and comment on the things they read.
"Texts from Last Night always brightens my day during a boring day at work," senior Danielle Cotton said. "I particularly like the St. Thomas edition on Facebook since the posts are all from students."
Spanier said that he got the idea after seeing multiple schools set up their own Texts from Last Night or Overhead in Minneapolis-type Facebook pages. It was seeing St. John's University's page that inspired him to create a page for St. Thomas.
Not all fun and games
Despite all the fun that comes along with being so intimately involved in a strangers' happenings, localizing the popular sites can have a downside for students, too.
"Because this is an open site, and not anonymous, this has potential to cause a lot of trouble," senior Liz Erickson said. "I wouldn't be surprised if St. Thomas gets a hold of this site somehow, and manages to punish underagers."
While St. Thomas' policy does not currently say anything about use of such sites, Erickson's cause for concern is not unwarranted. Facebook has been the source of a lot of problems since its inception and scandal has even hit close to home.
In 2007, six Hamline football players were caught dressing up in black face and allegedly posting the pictures on Facebook. They were suspended from the football team and sparked campus-wide debate. While a different scenario than posting the words of an anonymous person on a Web site, the message is clear. People are paying attention to social network activity.
While Spanier acknowledges the potential sticky situations for people because of what they post, he also thinks people just need to be more careful when it comes to their social activity. This is advice that he takes to heart for himself.
"Walking around St. Thomas … I'm a little suspicious of people," he said. "Watch what you say and watch what you text."
Ben Katzner can be reached at bekatzner@stthomas.edu