After the excitement and fun of the holiday season, no one looks forward to those extra months of sub-zero temperatures and snowstorms. But the cold winter days don't have to be spent on the couch. Many Tommies are instead finding cool ways to shake off their winter blues and maybe even melt off a few of those extra pounds gained by holiday treats.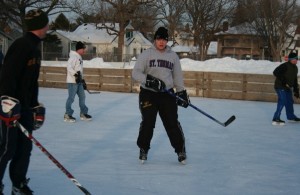 1. Lace up those old skates
Located just a few blocks down the road from campus, the Groveland outdoor ice rinks are a great place to show off your wicked slap shot or triple axel, like any good Minnesotan should.
But for those who don't find balancing on a thin blade the easiest feat, just slipping your way around the rink – hopefully sans major wipeouts – can also bring hours of fun and laughs.
For sophomore Eric Weslund and his friends, the rink is a place to head for a game of pick-up hockey. This group of St. Thomas students has come out to the rink multiple times during the long winter break to take out their pent up energy.
2. Check out winter works of art
The St. Paul Winter Carnival is an age-old tradition for Minnesotans to gather and do what they do best – hack chunks of ice to tiny bits. Why only scrape ice off your windshield when you could create a masterpiece to be admired by thousands of onlookers?
Or for those of you who are artistically challenged, grab a group of friends and munch on some mini donuts while you check out the ice sculptures in the heart of downtown St. Paul.
Sophomore Caroline Johnson went with her friends to check out the festivities a couple days after the carnival started. Her favorite was a giant dragon sculpture. The carnival features live bands, parades, events and a medallion hunt. Join in the fun before it ends on Jan. 31.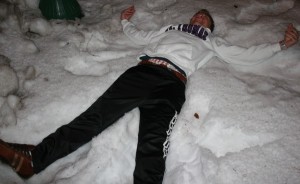 3. Snow business
What better feeling is there than pelting your friend in the face with a tightly packed snowball? Take off some of that winter stress and embrace the abundance of snow. Fort building competitions to prepare for an epic battle will make that sticky cold stuff a bit more bearable.
Sophomore Blaine Beck enjoys creating his own masterpieces such as a beautiful snow angel.
The only trick is getting up without stepping right in the middle of your beautiful creation. Master that trick and impress all your friends with your amazing snow abilities.
4. Hit the slopes
You could either think of winter as the endless months of coldness and short days, or the limited time you have to go shred the mountains.
OK, maybe Minnesota is lacking in actual mountain ranges but there are plenty of hot spots to go show off your new gear and sweet tricks. Challenge your friends to a race and the loser buys a round of those quality chalet cheeseburgers.
Juniors Matt Scott and Billy Hanlon like to snowboard at Buck Hill when they're not able to make it out to Bridger Bowl in Montana.
Ellie Galgano can be reached at agalgano@stthomas.edu