The Reserve Officers' Training Corps is a respected campus department, but some students in Morrison Residence Hall wish it would respect their sleeping patterns.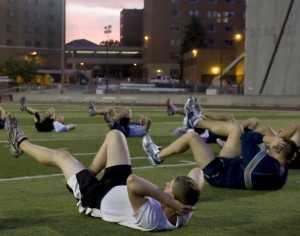 Morrison residents have recently complained about the ROTC program using megaphones at 6 a.m. to wake up sleeping students.
Junior Kassie Atwood lives on the third floor of Morrison facing the football field. She said that the noise woke her up around 6:30 a.m.
"I didn't need to get up that early, and then I couldn't go back to sleep. It was wasted time. I don't get enough sleep anyway," Atwood said.
Atwood said she left her windows open overnight because of the nice weather, which made the noise louder.
"I don't think the air conditioning had been turned on at that point because it wasn't necessary. I had to pick between closing my windows and making my room really hot or keeping my windows open and not sleeping," she said.
Sophomore Jacob Carroll lives on the side of Morrison furthest from the football field. He said that he was not disturbed by the noise, but two of his roommates were. Carroll also said that his fourth roommate participates in ROTC and was one of the students involved.
"I think it was kind of funny. I know people in Morrison were upset, and I know some girls in Dowling were woken up," Carroll said. "They were just having fun."
Some students said that the rumor around campus is that the morning greetings are in commemoration of a "warrior week" that ROTC students took part in during the last week of March.
However, Carroll said his roommate insisted it was a humorous effort encouraged by the commanders.
"All they yelled was 'Good morning, Morrison,'" Carroll said. "It shouldn't have been that big of a deal."
ROTC administrators declined to comment about the incidents. Also, several ROTC students declined to comment without permission from their commanders.
Atwood said she would appreciate a response.
"What's the secret? Why can't you tell us? If you're doing it out in the open, I think you should tell people why you're doing it," Atwood said.
"If it's only happened two times, there's nothing I think I could have done to stop them. But I'd be mad if it happened multiple times… that's just rude and inconsiderate," freshman Sarah Cook said.
Anastasia Straley can be reached at stra0669@stthomas.edu.