St. Thomas business law students are selling bracelets and dealing with legal obstacles on campus.
"With this product we had potential intellectual property issues with the University of St. Thomas," said John Del Vecchio, professor of Business Law 490. "The bracelets the students created were too similar to St. Thomas' so they had to find a way to knock off the bracelets without copying the school."
The rubber bracelets are white with a light purple swirl and say "St. Thomas" instead of "UST," to avoid copyright issues, senior Leah Menden said.
Although the project is part of the course, the students have also found it difficult to sell the bracelets on campus because the university does not like students making a profit from other students, senior Giang Truong said.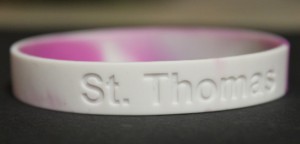 The 10 business law students have formed a partnership called 49OH! and received a $150 loan from their professor.
"Part of the Marketing 490 class grading component is to start and run a Minnesota general partnership for profit," Del Vecchio said. "They are to collectively come to an agreement on a product or service to sell, market and make all the decisions and do all the work necessary to run a partnership as well as operate a business in the black."
The students signed a promissory note promising to repay Del Vecchio back by the end of the semester. And if they fail to repay the investment, he has the right to sue them.
"We've been working on this project since the first day of class," senior David Stephens said. "We had to sign a legal contract and everything."
Students were encouraged to bring marketing ideas to class, and they chose the bracelet idea. Other ideas included a calendar, a cookbook or a headhunter service.
Students reflect on class
The purpose of creating and manufacturing these bracelets was to bring marketing and legal principles to life, Del Vecchio said.
Senior David King said this business class is different than others he has taken.
"This is really beneficial for the fact we get real-life business experience, where in most classes we sit and read about how to do all the business things from a textbook," King said. "Here we can actually do it, sell it and market it for profit."
The class teaches students about topics including patent, trademarks, copyrights and intellectual property law.
Stephens said the class showed him how hard it was to work in the marketing world with the government regulations.
Senior Michael Zickert said he likes the freedom the class allows.
"We have a great amount of freedom in conducting our project, and we're even thinking about doing a separate project just for fun," Zickert said.
Marketing success
This is Del Vecchio's second year using this class project.
He said this year's bracelet business has made more of a profit than last year's Haiku book project, so this year's class now holds the record.
The students bought 200 bracelets and have already sold 128.
"Each bracelet is sold for $1, and can be purchased anytime, anywhere as long as you contact one of the business law students," Menden said.
Ashley Stewart can be reached at stew1177@stthomas.edu.