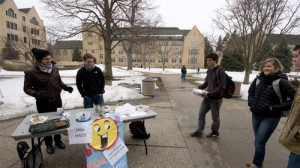 Members of the St. Thomas Rock Climbing Club set up shop Monday afternoon outside Murray-Herrick Campus Center, selling brownies to raise money for Haiti relief.
The club sold brownies, banana bread slices and muffins for 50 cents each and will donate the money raised to Habitat for Humanity.
When the Rock Climbing Club members were asked why they were selling baked goods in the blustery cold, junior club president Hans Pflaumer had a simple yet heartfelt answer.
"Because someone needs to help Haiti," he said. "There's enough people doing it, but the more the merrier."
The members of the rock-climbing club baked many of the treats for sale.
"We're mixing it up a little bit," Pflaumer said. "We have the members baking most of these for service hours."
Many St. Thomas students had already stopped by the baked goods table, judging by two cups filled with money.
"We've sold three pans (of brownies), a batch of muffins, and almost a whole banana bread (loaf)," junior John Kharouf said.
Although Kharouf said, "I can't feel anything," both members of the club said they believe it was worth standing in the cold to raise money for the devastation in Haiti.
"The biggest part of this is seeing all the donations and all the money that's going towards Habitat for Humanity," Pflaumer said.
Rebecca Omastiak can be reached at omas5009@stthomas.edu.