In the past, bringing newspapers into the bathroom used to be common. But today's technology has made it very easy to "do your business" in more than one way while in there.
A recent AIS Media survey of 500 Americans found that 27 percent accessed Facebook from their mobile phones while in the bathroom.  Some St. Thomas students have, too.
Sophomore Kyra Oaks is one of those students.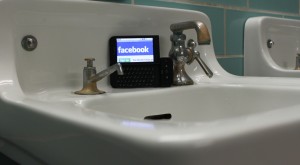 "I've definitely gone on Facebook while using the bathroom, like updating my status," Oaks said. "People probably do it more than they're willing to admit."
Senior Jeremy James said many people are probably connecting to Facebook while in the bathroom because cell phones make it possible.
"I think it's normal. It seems that Facebook transcends everything," James said. "It seems the world has become pretty paperless if people are using Facebook on the toilet."
Junior Krista Gaworski said she has also used her cell phone while in the bathroom, but not just to access Facebook.
"I've used my phone to go on Facebook in the bathroom at work sometimes, but I usually just text," Gaworski said. "I just got a new phone so now I'm connected to the Internet that way."
The survey also found that more women than men go on Facebook from a mobile device while in the bathroom. Forty-six percent of men and 54 percent of women admitted to doing it.
Both Oaks and Gaworski had opinions on how to explain the difference in numbers.
"The number is probably higher for women because they're sitting down while in the bathroom," Oaks said.
Gaworski said time could be a factor for the higher percentage of women.
"Women probably do it more than men because women spend more time in the bathroom," Gaworski said.
Yet some students, including freshman Megan Boettcher, said going on Facebook while in the bathroom is not normal.
"People must be very addicted to their Facebook if they're going on it while in the bathroom," Boettcher said. "It's a little weird."
Sophomore David Burke said there are more practical ways to visit the site than from a cell phone in a bathroom.
"I've never really done it. I just use my computer to check Facebook," Burke said. "But as ridiculous as it sounds, a lot of people probably do it."
Freshman Timothy Little said he does not understand this trend.
"I don't really see why people can't wait to look at their Facebook," Little said. "You can just wait until you're out of the bathroom to check it."
Cynthia Johnson can be reached at john3175@stthomas.edu.