St. Thomas will be hosting this year's Special Olympics Minnesota spring games for the first time in school history.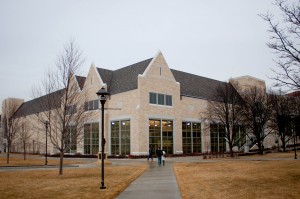 The games will take place Friday, March 23 through Sunday, March 25 in the Anderson Athletic and Recreation Complex and McCarthy Gym. Events will include basketball, powerlifting and aquatics.
St. Thomas hosted the Special Olympics Minnesota summer games more than 10 years ago.
"We obviously had the old athletic facilities at that point," said Michelle Morgan, marketing manager of Anderson facilities.
The novelty and size of the AARC are the main reasons Special Olympics Minnesota chose St. Thomas to host the games.
"They've never really been able to have such a large space that's conducive to all three events in one venue," Morgan said. "That's why (St. Thomas) was the most appealing."
Sophomore Janie Dorn, president of the Special Olympics club at St. Thomas, said that the athletes participating in the spring games will be excited to compete at St. Thomas.
"I know a lot of athletes kind of follow St. Thomas's sports teams, so to be in the same basketball gym or something like that… will be really exciting," Dorn said.
Morgan said that over the course of the weekend, St. Thomas expects "a little more than 5,000 people," including athletes, coaches, parents, spectators and volunteers.
"I know our food service group catering is looking at feeding about 1,800 people two meals a day," Morgan said. "Out of the student center, both The View and the Woulfe Alumni Hall will be set up for them."
Morgan said that around 600 volunteers are needed for the event. Volunteer registration opens to the public on the Special Olympics website Friday, Feb. 17.
"It's not just the St. Thomas population – it'll be corporate sponsors and external folks that they'll pull from to get to that number," Morgan said.
Dorn said she plans to be active in the games in one way or another.
"I think our club members will definitely be volunteering. The spaces fill up pretty quickly, so if we're not all needed, we'll for sure be there cheering," Dorn said.
Morgan said that she believes volunteering would also be "a nice way for (St. Thomas) student athletes to get involved."
Dorn said she sees the games as an opportunity for the Special Olympics club to "create a better relationship between students on campus and the Special Olympics athletes."
"Hopefully we can reach out to students who aren't in our club and get them to volunteer or come and watch and just kind of get them more aware of Special Olympics," Dorn said.
For Morgan, the goal is to lay the foundation for a long-term relationship.
"Assuming things go well… we hope that this will continue in a multi-year relationship and that (we) can host and utilize and showcase our venue," Morgan said.
Rita Kovtun can be reached at kovt1547@stthomas.edu.
NOTE: Special Olympics Minnesota holds games every season. Special Olympics has a national competition every four years and a world competition every two years, alternating between winter and summer games.