For senior Jordan Isaacson, fashion is much more than just the clothes you put on your body. Even though many college students have tight wallets and work long hours, Isaacson believes that fashion has the ability to not only shape the reputation of the individual but also the reputation of their campus.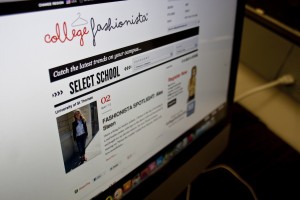 Isaacson puts this belief into action by being a "Fashion Guru" for the website collegefashionista.com, a blog that follows the latest fashion trends on almost 200 campuses in the U.S. and Canada.
"I started my internship this semester," Isaacson said. "I never interviewed for it or anything; I just submitted my resume and then chose what kind of column I wanted to do."
Columns on the site discuss jewelry, men's fashion, workout wear, style advice and a "fashionista spotlight." Isaacson represents St. Thomas on the website and spotlights "fashionistas" and "fashionistos" on campus every week.
"I will take pictures of people on campus that I think embody not any specific kind of style but something that's creative and something that's fashionable," Isaacson said. "I also try at the bottom of my post to usually include how to implement a similar fashionable look on a college-friendly budget."
Junior Tucker Johnson was noticed by Isaacson and was one of the site's featured "fashionistos."
"I think it is a unique way for students to express themselves and share with others what they like to wear and their style," Johnson said.
Senior Kristine Leary was spotlighted on Wednesday, March 28, for her maxi dress and described her style as "laid back."
"I'm influenced by magazines, the people around me, celebrities and Pinterest," Leary said.
Isaacson said that having St. Thomas on collegefashionista.com is exciting, but she wants to see more students come to the site.
"St. Thomas doesn't have as much traffic on the site," Isaacson said.
Despite the low traffic, Johnson said he thinks St. Thomas is very fashion forward.
"I have always been into fashion and pay close attention to what I wear and why. I like dressing nice and it makes me feel good," Johnson said, "I think college-aged men play a huge role in fashion as they are often on the forefront of the industry. I think college is a time for exploration and finding yourself, and fashion is a great way to express this."
After graduation, Isaacson will pursue an associate degree at The Fashion Institute of Technology in New York.
"While I love North Face and Uggs and I wear them myself, it is cool when people like the 'fashionistas' put in the extra effort into wanting to have a more creative style," Isaacson said. "I am a firm believer in taking risks in your clothing."
Meghan Sheldon can be reached at shel9069@stthomas.edu.