On the first Monday of the month, several St. Thomas students head to The Artists' Quarter in downtown St. Paul. 
Some of the students go only to fill an English class requirement, but others go because they enjoy the Soap Boxing Poetry Slams, which feature a nationally-recognized team of poets competing against one another for monetary prizes. 
Each poet recites an original piece of poetry that is then scored by randomly selected audience members on a scale of one to 10.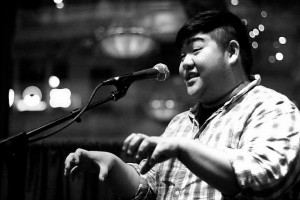 The top seven scoring poets continue to a second round, repeating the scoring process until all but three performers are eliminated.
Heiu Minh Nguyen, whose high school theater class introduced him to the art, regularly writes, attends and performs at these shows.
"Each poem is a three minute monologue. It's like a three minute short play of a person's life," Nguyen said. "It's a chance to share your story, your voice. It's an outlet to share how you feel."
A handful of St. Thomas English professors require students to attend literary events as a part of their courses, including Matthew Batt.
"Requiring students to attend literary events, both on and off campus, demonstrate in a real world way the vibrancy and validity of art in America," Batt said.
Batt said that he accepts Soapboxing as a fulfillment of the requirement.
"What's important to me is that my students experience, if only for three or four times … while they're in my class, the possibility that art (can) also be a kind of world in which they can actively engage and participate," Batt said.
A group of students from Batt's class last semester enjoyed the opportunity so much that they continue to attend the competition, arranging carpools to the venue and saving tables for their former classmates.
"I didn't expect much when I originally came, but I was so taken aback by the first time that we went," junior John Dieltz said. The poems were performed in such a way that it was so emotional and thought-provoking that I'll always come back."
Freshman Emily Carlson attended her first slam when she was 14 years old. Now, Carlson invites students from St. Catherine University and St. Thomas.
Nick Ronnei, also a freshman, is part of the group that regularly attends these performances.
"It's like hip-hop, but completely focused on the lyrical, poetic aspect of it," Ronnei said.
St. Thomas is not only represented in the audience, but also on the stage. Freshman Chris Allen writes and performs his poetry at slams throughout the Twin Cities, including the Artists' Quarter, Dunn Bros and Macalester College.
"You're missing out by not going to one of these," Allen said. "One, they're entertaining. Two, Minnesota is probably, if not the best… states in the nation for slam poetry."
Anastasia Straley can be reached at stra0669@stthomas.edu.