Instead of giving up shaving this month, several St. Thomas students decided to give up Facebook to raise awareness for cyberbullying.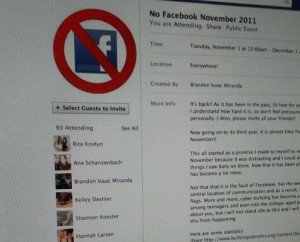 Sophomore Brandon Miranda started the event three years ago at a retreat. He said he originally gave up Facebook to cut back on the negativity in his life.
"Facebook has a lot of bad things going on," he said.
Miranda said he came up with the event "No Facebook November" on the retreat.
After realizing how beneficial giving up Facebook was, Miranda decided to get other people involved in the event. He also decided to use the event to raise awareness for cyberbullying.
St. Thomas Psychologist Dr. Debra Broderick said she thinks the event could help raise awareness for cyberbullying on campus.
"It's a provocative thing," Broderick said. "Once people raise awareness, people may think twice before they say something online that could hurt somebody whether they intend it or not."
While some students are participating to get rid of distractions, others are hoping to raise awareness for cyberbullying.
Sophomore Hannah Larsen said she gave up Facebook so she could focus better but realized later there is more to the event.
"I didn't even know about that (the cyberbullying cause) until I read the Facebook event and then I was like, 'Oh, we're doing this for a good cause,'" Larsen said.
Sophomore Kelley Deshler said she had been cyberbullied and was glad to support the cause.
"I think it's a really serious thing that people don't really think about," Deshler said. "It's just so common to sit on your computer and talk to people like you maybe normally wouldn't just because they can't see you,"
Giving up Facebook has challenged some of the participants. Miranda said the first few days are the most difficult, and it gets easier over time.
Junior Senior G Lee Xiong said the most difficult part is feeling disconnected.
"I guess the biggest challenge has been not knowing the events that my friends are putting on or even the club events," she said.
Sophomore Trevor Ausen said giving up Facebook has not been as difficult as he thought, but it will be more difficult around his birthday.
"My birthday is in the middle of November," he said. "So it will be hard to not go on and thank everyone."
Despite the challenges, Miranda said many participants from last year enjoyed it enough to return again.
"Every single person that has told me that they've done it and actually went through with it, they are doing it again this year because they thought it was really good," he said.
[slidepress gallery='111106_nofbook_nov']
Miranda hopes the event will make a difference as it grows and students will become more aware of cyberbullying.
"Bullying, in general, really just psychologically scars children … and adults. It scars everyone," he said. "They might not even know that it's causing them harm in the long run. Now with technology, I feel that people don't feel as accountable to what they say online."
Broderick said that students should take the no Facebook event and cyberbullying seriously.
"I think Facebook and other social media in general can be wonderful things, and they do a lot to build community and to get people interested in other causes," she said. "But it also can bring out the worst in people."
Madeline Carlson can be reached at carl8801@stthomas.edu.