More than 150 students spent spring break doing service work around the country.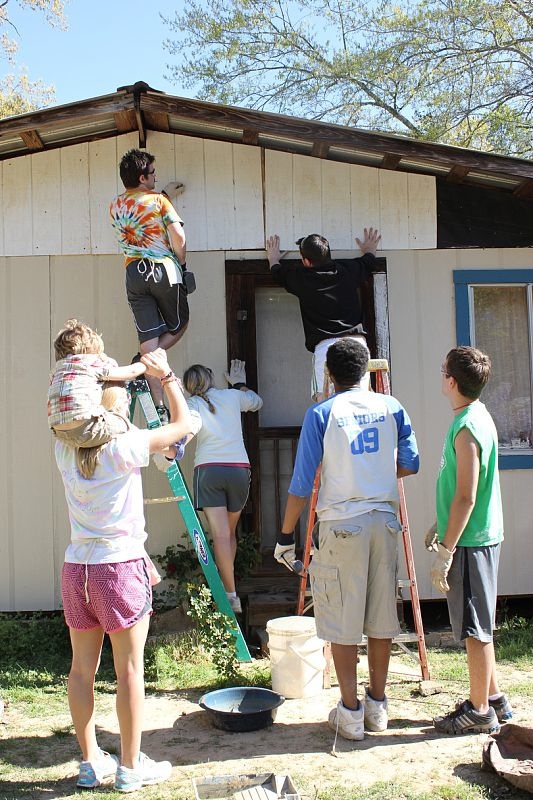 VISION sent seven groups to six states and the U.S. Virgin Islands. Freshman Amanda Voss traveled with eight other students to Mississippi on a VISION trip to and spent four days renovating homes for families.
"We primed and painted two homes for one extended family," Voss said. "We worked on adding a new room and all new siding to a home at a different site."
Senior Kamal Mohamed led the Mississippi trip and said they travel hundreds of miles to do service because they recognize that there are people everywhere who need help. He also said others' stories are important to hear because they matter, too.
"I had some misconceptions about the South because everything I knew I heard from someone else," Mohamed said. "Although I was there for only a week, I learned a lot.
"Helping others makes us feel like our work is worthwhile. I have witnessed students really opening up and broadening their horizons."
Voss said she met many different people and believed her group made a positive impact on the lives of the people they served.
"I think it's important to get involved and meet people," she said. "It's especially hard as a freshman, but you have to just do it."
The VISION groups also prepared meals at a homeless shelter in rural Colorado and maintained national park trails in the U.S. Virgin Islands.
A bus tour of service
About 90 students also packed their bags to do service work in six U.S. cities on the Students Today Leaders Forever bus tour.
STLF is a program offered to middle school, high school and college students. Its mission is to build relationships by "revealing leadership through service, relationships and action."
The students traveled with four St. Thomas bus leaders to do community service projects in Nebraska, Missouri, Tennessee and Arkansas. They ended their trip in what they called their "destination" city, Dallas.
Sophomore Beatriz Panameno, an international student from El Salvador, said the tour was the best thing she has done at St. Thomas.
"Before this trip, I had a negative perception about Americans, but I am so glad that I went because it totally changed my view of the students here," Panameno said. "I loved every moment of it."
Panameno added, "I learned a lot about myself during the trip. I also went on the trip alone and came back with a lot of friends."
Ariel Kendall can be reached at akendall@stthomas.edu.