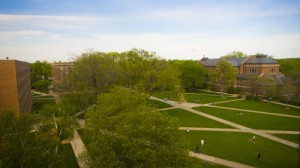 Every year, I'm amazed at some things I see in the Upper and Lower quads once the weather starts getting nice again. Something about spring really brings out the ridiculousness in people.
Whether you're walking to class or biking home from the library, you can usually bet that more than a few groups of students will be gathered in the quad if the weather's somewhat decent. And I think that's great, for the most part. However, some of the sights still astonish me after four years in Tommieland.
For once, I'd like to make it through the quad on a nice day without having to worrying about getting hit in the back of the head with a baseball. So, I present to you the five biggest spring quad faux pas.
1. Playing catch without catching
A friend of mine said he left his dorm the other day and saw some guys playing catch in the quad—pretty normal stuff. He also told me that within the eight throws he saw them make, the ball got dropped six times.
Now, I wish I could say that's pretty abnormal stuff, but all too often do I find groups of students fumbling passes and chasing down Frisbees.
I know the Box Office & Expeditions loans equipment to all Tommies, even alumni, but can we get some standards here? I think anyone who wishes to rent a football should have to pass a basic catch-and-throw skills test first.
2. White sunglasses
In an Aquin article last year, I referenced lacrosse players wearing white sunglasses in the quad. At a party a few days later, a friend told me to watch out because some of the lax people there wanted to fight me because of what I said.
Talk about being too sensitive.
I'm not sure what it is about white sunglasses that bothers me so much, but it's there. And I'm not alone. My mom always says the surefire sign of a jerk is white sunglasses, especially if they're on backward. Maybe the lacrosse team thinks the white shades will reflect more UV rays, but is that really worth looking like jerks?
3. Sand + Volleyball = No shirts?
In February, we were blessed with a surprisingly nice day in Minnesota. For the first time in a long time, I left my coats and sweatshirts in my closest and headed to campus in just a T-shirt. When I reached the corner of Selby and Cleveland avenues, I found about six male students playing volleyball with their shirts off.
And I thought I was being bold.
What is it about sand volleyball that makes guys take their shirts off, anyway? We're not at the beach. In no other area of the quad will you find a group of men running around topless. I doubt their spikes improve that much by only wearing shorts.
4. Dowling beach
Every spring, you can count on finding a bunch of women from Dowling Hall laying out on their blankets in the Upper Quad. Now, I don't find anything wrong with this by itself. I enjoying soaking up the sun just as much as the next person.
However, what really makes me laugh is when these girls pretend to study. If you're going outside to socialize, please spare us the charades and leave your textbooks in your rooms. You might as well embrace your Dowling beach membership; it's an elite crew.
5. Gaming instead of playing games
Another reason to question the existence of Dowling beach is the herds of guys that it attracts. Once late afternoon rolls around on a spring day, men come from all over to see who else is in the quad. Most of them probably don't even live on campus.
These are the guys who post up next to a group of girls and start throwing a football as far as they can. Do they really think that is going to attract anyone's attention? Well, they got mine, but I doubt that's for whom they were aiming. The point is, the quad is a place for community, not showing off and getting phone numbers.
Grant Goerke can be reached at gdgoerke@stthomas.edu.