Halloween is right around the corner, and the Twin Cities offer a variety of attractions to satisfy everyone looking for a scare. Below is a list of some of the most popular and frightening attractions in town.
The Soap Factory's Haunted Basement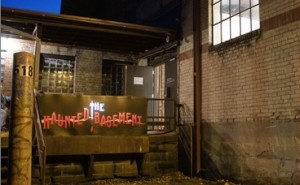 The Haunted Basement is not for the faint of heart. The Haunted Basement's fourth year brings a new theme – distortion – and new phobias to face. It runs from Oct. 1 through Oct. 31, and goes from 6 p.m. until midnight every night. Tickets usually sell out, so make sure to buy your tickets online before you head out to the Warehouse District in Minneapolis. No one under 18 is admitted, and they always check IDs at the door.
The Wabasha Street Caves
There are some sandstone caves in St. Paul that people claim are haunted. If you want a tour of St. Paul's spookiest haunts, make sure to check out one of the Wabasha Street Caves tours. There are three separate tours: the Ghost and Graves tour ($18), the Caves and Graves tour ($24) and the Lost Souls tour ($10).
The Trail of Terror
The Trail of Terror provides more than 13 attractions for a wide range of frightening experiences. Attractions include the original Trail of Terror that includes more than 25 bone-chilling rooms, a late-night monster truck ride, a Hollywood-themed corn maze, a haunted hayride, a hypnotist and Club Scream, among other things. Adult tickets are $18.95, but can be purchased for $15.95 at any Walgreen's location. The Trail of Terror is located less than eight miles outside of Shakopee.
Valleyscare
For years, Valleyfair has provided a spooky venue perfect for everyone. There are six mazes, two of which are outdoors, the Cold Creek Cemetery scare zone, a collection of rides that are still open and a scare-free zone for the kids. Check out the website for hours of operation, ticket prices and other information.
Make Your Own Costume
Don't risk having the same generic costume as someone else on Halloween. Tap into your creative side and make your own Halloween costume. Not only does making your own costume cost less money, it could also result in a win at a costume party. Start the search for the perfect costume at Goodwill on University Avenue. Goodwill has nice, cheap and gently used costumes for sale, and it's also the perfect place to find accessories for your costume. Stop by local vintage and second-hand stores for costumes and accessories as well. Everyday People Clothing Exchange, Lula's and Up Six are all located within a few blocks of each other at the intersection of Selby and Snelling avenues.
Kristi Battarbee can be reached at batt3378@stthomas.edu.