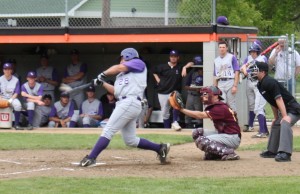 NORTHFIELD – The St. Thomas baseball team defeated Concordia-Moorhead 7-6 in 11 innings Saturday to stay alive in the MIAC playoffs .
Senior Tom Wippler hit a solo home run in the top of the 11th inning, after the second pitch of the inning. Junior Drew Cremisino also had a solo home run.
Starting pitcher senior Matt Nelson pitched seven innings, giving up three runs with nine strikeouts. The Tommie pitchers combined for 13 strikeouts, while Junior Matt McQuillan reached base five times.
The Tommies will face Augsburg 5 p.m. Saturday at Dundas Field. Augsburg defeated the Tommies 3-2 Friday on a walk-off home run in the first round of the playoffs.
The Tommies need to win to force a Sunday rematch for the title.
Brian Woitte can be reached at bmwoitte@stthomas.edu