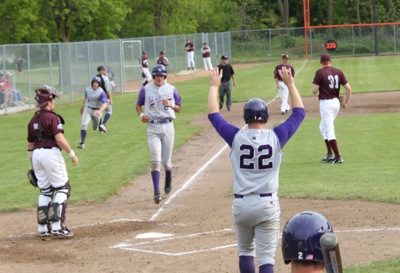 The bats came alive for the St. Thomas baseball team Saturday night as the Tommies throttled Augsburg 17-1.
The Tommies and Auggies will play 1 p.m. Sunday at Dundas Field for the MIAC Championship.
Senior Tom Wippler had two home runs, a solo and grand slam, along with six runs-batted-in.
"It's the adrenaline," Wippler said about the Tommies' offensive outburst.
The Tommies scored six in the first inning and four in the second inning. Sophomore Bryce Gapinski pitched eight innings, allowing one run, on a home run, and five hits.
"It's nice to have a lead, it takes the pressure off," Gapinski said about having an early six run lead. "I really took advantage of the momentum."
Junior Brady Field contributed with two home runs and senior Matt Olson also added a home run, as part of a 17-hit attack for the Tommies.
The Tommies lost 3-2 against Augsburg Friday.
"Yeah, this was payback against Augsburg," Wippler said. "This game shows that they have to work hard to be able to play with us."
Brian Woitte can be reached at bmwoitte@stthomas.edu