St. Thomas welcomed its largest freshman class this fall, and the number of students and the increase in student activity fees means more money generated through activity fees.
Three of St. Thomas' "Big Five" organizations on campus create programming for students. The Undergraduate Student Government, St. Thomas Activities and Recreation, and Hana, the student diversity organization, are all funded by the student activity fee.
The USG budget for the fall semester totals $270,842, and the STAR budget is $339,000.
All St. Thomas students are required to pay student activity fees each semester. For undergrads, the fee is $105.50 for full-time students and $53 for part-time students.
About 60 percent of the student activity fee money goes to STAR, said Greg Scharine, USG vice president of financial affairs. USG receives the remaining 40 percent.
What USG funds
About 46 percent of the USG budget is set aside for club-related spending. USG approved its budget at a meeting earlier this fall.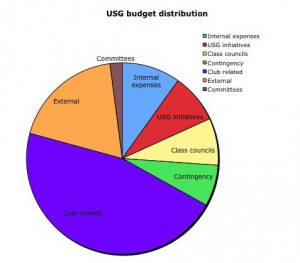 Scharine said while the budget is higher than last year, there is "more outgrowth." USG has approved more clubs over the past year, and prices for expenses such as food have gone up, he said.
"The pie gets bigger," Scharine said. "But we have more and more mouths to feed."
Scharine and the USG finance committee oversee club allocation and USG spending. Club advisers Margaret Cahill and Mary Ann Ryan supervise the budget, he said, but Scharine and the finance committee make the final decisions.
The new purchasing policy has made clubs "nervous" this semester, Scharine said.
"It's a learning experience for me, clubs and other people as well," he said.
Other USG money funds class councils and internal and external expenses. USG also has set aside money for its three initiatives this school year. These initiatives are to create a smoke-free campus, strengthen neighbor relations and improve the transfer student orientation and experience.
STAR uses extra money to reduce ticket prices, add events
Matt Gustafson, STAR supervisor and assistant director of campus life, said STAR's budget is more than previous years.
"STAR has worked extremely hard to utilize this money in ways that specifically provide opportunities for students," he said.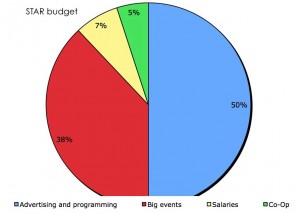 With the extra funding, STAR did not charge students for homecoming like in past years. STAR also cut the cost for off-campus trips from $10 to $5. The only exceptions to this are off-campus restaurant trips, which still cost $10, Gustafson said.
STAR added another night of campus programming called Friday Unwind this semester.
"This means students will now have on-campus programs every week on Thursday (Thursday Night Live), Friday (Friday Unwind) and Saturday nights (Tommies After Dark)," Gustafson said.
STAR has also ordered more items for events to increase the number of students who can attend.
Senior Boubakar Jalloh, STAR vice president of finance, said STAR's philosophy is to put students first.
"We strive to make sure all STAR events and collaborations have the best interest of the students in mind," he said. "Programmers are encouraged to actively seek inputs of students while pursuing events that are inclusive of all students on campus."
Jalloh said all STAR interns submit anticipated budget plans to him.
"All budgets approved by me must also be approved by administrators … and also through the St. Thomas budget approval process," he said.
Hana funds diversity programming
Hana applies for money like other clubs. Hana President senior Nick Kor said Hana's budget is approximately the same as past years. Hana's budget is $8,117 this semester.
Kor said the money goes toward programming and meetings. Hana hosts campus-wide events, speakers, shows and other cultural events.
Hana is comprised of four subcommittees: African American Student Association (AASA), Asian Students in Action (ASIA), Latinos Unidos (LU) and Native Americans Teaching Indian Values and Education (NATIVE). Each subcommittee has its own budget, Kor said.
The executive board has a budget and oversees the subcommittee spending.
Kor said Hana is "dedicated to students' growth." As a multicultural organization, he said "we will provide opportunities for students to understand their identity and what it means to them."
SAC and RHA do not get student activity money
Student Alumni Council adviser Katie Spangler said SAC does not receive any funding from USG or the student activity fee. SAC is a private organization funded entirely by the Alumni Association.
Residence Life funds the Residence Hall Association. Director of Residence Life Aaron Macke said he allocates about $80,000 per year to residence halls for "in-hall programming and to the RHA Executive board programming."
Theresa Malloy can be reached at mall5754@stthomas.edu.