For the third consecutive year, St. Thomas football coach Glenn Caruso is a finalist for the Liberty Mutual Coach of the Year Award, which was announced Tuesday morning.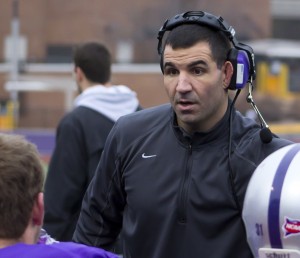 The Liberty Mutual Coach of the Year Award "recognizes college football coaches who demonstrate Sportsmanship, Integrity, Responsibility and Excellence both on and off the field," according to coachoftheyear.com website.
The finalists for Division III include: Concordia-Chicago's Lonnie Pries, Wisconsin-Oshkosh's Pat Cerroni, Coe's Steve Staker and Lake Forest's Jim Catanzaro.
Caruso has won the award the past two seasons. He is the only coach to win the award twice.
Although pleased with the award nomination, he said he believes it's more of a "community award."
"It's an honor," Caruso said. "It's a reflection of the excellence the University of St. Thomas holds its self to. I hope the students and fans understand that they are as much a part of (the award nomination) as anyone."
The winner is awarded $50,000 for donation to a charity of their choice, along with a $20,000 grant to the winning school's alumni association.
Quarterback Matt O'Connell said he thought Caruso's nomination was "very deserving."
"To take a young team, in many new roles this season, and not have them miss a beat says a lot," O'Connell said. "His success continues to grow."
The last two years, Caruso has donated the money to a couple different places.
Last season, he donated money to St. Jude Children's Research Hospital, Bucky's Pride and the local Ronald McDonald House Charity. Two seasons ago, he donated to the Yale-New Haven Cancer Center and "Bucky's Pride."
Online voting ends Dec. 20 and votes are tallied via Twitter.
The winner is announced on Jan. 7, 2013.