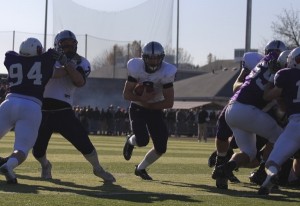 McMINNVILLE, Ore. – Costly St. Thomas mistakes and Linfield's efficient offense added up to a 31-20 defeat for the Tommies in the NCAA Division III football quarterfinals.
The loss ended a stellar seasons in which St. Thomas posted an 11-2 record, making this year's team the first 11-win team in the program's history. Their two playoff wins are also the most by any Tommie football team, and a majority of this year's starters will return to play next season.
Linfield advanced to the D-III semifinals next week against Wisconsin-Whitewater. Mount Union will face Wesley in the other semifinal.
"[Losing] is extremely frustrating," coach Glenn Caruso said. "I'm sure in time we'll understand the magnitude of what's been done this year, but at this time, it's hurtful."
Junior Simon Samson ran in three touchdowns for Linfield and junior Aaron Boehme threw for 256 yards and a score. Senior Trevor Patterson caught a touchdown pass and ended with 82 yards receiving, 70 of which came in the second half.
"It's tough," sophomore Dakota Tracy said, "knowing how successful we were all year."
Ben Wartman led St. Thomas with 155 rushing yards and a score, and sophomore Fritz Waldvogel added 137 receiving yards and a touchdown. Tracy threw for 156 yards and two touchdowns after replacing sophomore Greg Morse, who was intercepted twice in the first quarter.
"Dakota's been the spark all year," Caruso said. "When we had some turnovers early, I didn't hesitate at all to put him in."
St. Thomas' special teams struggled throughout the entire game. A.C. Cloutier's punt attempt was blocked in the second quarter, senior Brady Beeson missed an extra point in the third quarter, and Waldvogel fumbled a punt return in the fourth quarter. Linfield held the explosive Waldvogel to just 20 yards on four punt returns and 70 yards on four kick returns.
Turnovers proved costly for the Tommies, who ended the game with three interceptions and two fumbles.
"Turnovers are a killer," Caruso said. "We've been tremendous all year long at securing the ball and today is a great example of what happens when we don't."
The Tommies made a surge in the second half, cutting the lead down to 24-20 at the end of the third quarter, but Samson's third touchdown with 12:53 remaining turned out to be enough for the Wildcats.
"I'm very happy with how we played," Linfield coach Joseph Smith said. "That was a good football team we played today."
Linfield jumped out to an early 14-0 lead in the first quarter on two touchdown rushes from Sampson. St. Thomas had only surrendered 31 points combined in the first quarters of their previous 11 games and had not often played from behind.
"To be down 14 didn't phase us that much," Caruso said. "A testament to that is how well our guys played and came back and put together a couple of scores in the second quarter."
The first of those scores was a three-yard touchdown run by Wartman, which cut the lead down to 14-7. Linfield responded with a career-long field goal of 41 yards by Maika Kunioka to make the score 17-7, and on their next possession Boehme hooked up with Patterson for a touchdown strike to extend the lead to 24-7.
St. Thomas got the ball back with 3:53 left in the half, and marched down the field into Linfield territory where Tracy found senior Jake Friederichs from four yards out to cut the lead to 24-14 at halftime.
In the halftime locker room, Caruso said his team felt confident in their ability to come back.
"I firmly believe that we are one of the great second-half teams in the country," Caruso said. "We did not display that today."
The second half would prove to be 30 minutes of missed opportunities for the Tommies. Defenses on both sides of the ball stepped up, and after 44 points in the first half only 13 were scored in the second half. St. Thomas was unable to capitalize on their strong defensive play as the offense struggled to put points on the board.
"They threw a lot of different things at us," Tracy said. "You have to give credit to the Linfield defense."
St. Thomas came to within four points after a 29-yard touchdown reception by Waldvogel with 2:34 remaining in the third, but that was the last time the Tommies reached the end zone. Linfield got the 11-point lead back after Samson's third score, where it remained until the final whistle.
"We just had that mentality that we're going to get it done," Boehme said. "We executed when we needed to, and when we execute and don't beat ourselves, we're a tough team to beat."
With the victory, the Wildcats are one of only four teams alive in the playoffs. Next Saturday, they will travel to No. 2-ranked Wis.-Whitewater, who defeated Wittenberg 31-13 in the quarterfinals.
After the game, Smith expressed his pride in how his team battled the conservative tendencies that spring up when playing with a lead.
"I'm very happy with how we played," Smith said. "We made the plays when it counted."
St. Thomas walked away from the field with its year ended, but despite the tears on some player's faces, there was optimism shown about this season and the future.
"We're going to have a good amount of guys back and we're going to try to do the same things we always do," junior Josh Ostrue said. "We'll work hard in the offseason, come back, and try to do what we did this year."
While St. Thomas can only look ahead to next year, the Wildcats get to look ahead to next week. When asked if Linfield knows anything about their next opponents, the 13-0 Warhawks, Smith laughed and shook his head.
"We've heard they're pretty good."
Jordan Osterman can be reached at jrosterman@stthomas.edu