Chris Olean was named the head coach of the Tommie baseball team Wednesday.
Olean said he was "ecstatic" when he heard the news.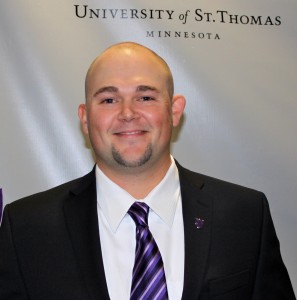 "It's something I've been working for for a very, very long time," he said. "Just with history at St. Thomas, I didn't know if this would be the first head coach job I would get because Denning had been here for so long. But the situation couldn't have worked out better for me."
Olean said this is his "dream job" at an open interview session last week.
"I'm still kind of letting it sink in," he said. "Certainly I feel like we had a good year, and it's good to take that monkey off your back and get down to coaching."
Olean was the interim head coach last season after Dennis Denning retired. Before that, Olean was a Tommie pitching coach for nine years.
Olean is a St. Thomas alumnus who played for the Tommie baseball team. He has had professional experience with the Milwaukee Brewers, St. Paul Saints and Miesville Mudhens.
About 100 people applied for the position, and two other finalists were interviewed last week. St. Thomas Athletic Director Steve Fritz said the university formally opened up the position to look at all possibilities.
"It was a good decision in the sense. It allows you and forces you not to only look at your internal candidate but other possibilities. In the end, you certainly want to make a decision that is best for the student athletes and the future of the program," Fritz said.
Fritz said he expects Olean to build on the great things the team did last season.
"He had a great year as the interim head coach, and we've gotten to know him over this period of time. And we expect, as we do from all of our programs, we expect good things," Fritz said. "We're very confident that Chris could do that for us."
The Tommie baseball season begins Feb. 1. Olean said he has high hopes for his team this season.
"I hope to win the conference, win the conference championship, get to the regional," he said. "I found when you get to the regional you have to be playing good baseball and sometimes that's hard."
"We're even capable of getting to the World Series this year. Even though we're young, we're very, very talented," he said.
Theresa Malloy can be reached at mall5754@stthomas.edu.