Earlier this semester, the Undergraduate Student Government announced that Public Safety will not allow motorized floats in the homecoming parade Saturday due to the removal of Lot H to make way for the new Anderson Student Center.
But the clubs and organizations registered for the parade are not letting the restriction stop them from exploring new ways to impress the judges with their parade performance.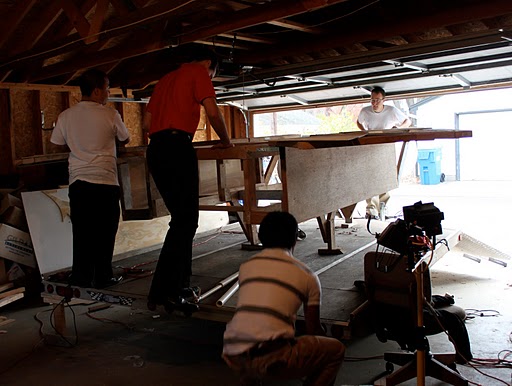 Junior Sally Mahmoud, Hana communications chair, said she thinks the new restriction can be a positive thing.
"We think that [having no motorized vehicles] is going to allow us to be more creative, work with what we have and really force us to think outside the box," Mahmoud said. "Hana has always been really creative and has done group dances, done remixes to songs, and we even made our own version of Tommie last year."
This year's homecoming theme is "Tommie Spirit." Participants are encouraged to show their spirit by creatively displaying their clubs' contributions.
USG President Dwight Anderson is an MC for the parade and said he thinks it is neither a good or bad thing and looks forward to seeing what clubs and organizations come up with this year, because no one will know what to expect.
"Some students were upset because it has been tradition for so many years and it was seen as a large aspect of the parade," Hana President senior Nick Kor said. "It can also be a negative in that less clubs and organizations will want to be a part of the parade … I have heard that registration for the parade is down a lot from last year."
The Bulletin released a statement last week about open parade slots after the parade application deadline Oct. 10.
"Enrollment isn't down from previous years … the bulletin was more a push to get the remaining clubs and organizations to turn in their parade application," Assistant Director of Campus Life Jese Ledbetter said.
The seminarians received second place last year and consider the parade a great opportunity to get everyone involved in the planning for the big day.
"We were disappointed that motorized vehicles would not be permitted, but at the same time, we are excited for a new challenge and opportunity to showcase more creativity," senior seminarian Darin Schmidt said. "We have some plans already for a float and a presentation that will definitely not disappoint … we are interested to see what other groups come up with."
Hana members also didn't have trouble coming up with creative new ways to show off their "Tommie Spirit."
"We've had quite a bit of ideas," Kor said. "Some include a flash mob, dressing up in ethnic clothing, having a drumming circle, and a "bikers" theme. We have a finalized decision, but I'm not going to spoil it."
Hana won first place last year and the members are hoping for a repeat victory after Saturday's parade presentations to the judges. The students do not find out who the judges will be until the day of the parade, according to STAR President Ashley Bailey.
"I am really looking forward to seeing what other clubs and organizations do with this new limitation.  It will be exciting," she said. "I think the floats do get better and more creative every year. It will be interesting to see if any organization can come up with a way to still incorporate a float without a car."
The parade starts at 10 a.m. Saturday at the intersection of Fry Street and Summit Avenue, and ends at Cleveland and Summit avenues.
Ariel Kendall can be reached at akendall@stthomas.edu.