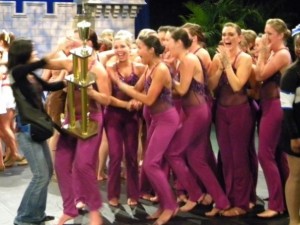 National titles and championships have been a trend in University of St. Thomas sports over the past year, and the dance team is no exception to victory.
The team headed down to nationals in Orlando, Fla. from Jan. 16 to Jan. 17 for a packed weekend of competing in front of friends, family and of course a panel of judges. After a demanding couple of days, the women brought home first place in jazz and second place in hip-hop for the open division.
According to junior captain Rachel Chadima, there were 27 teams in the Jazz semi-finals, and 18 teams in Hip-Hop.
"There is a lot of pressure going into the final performance," Chadima said. "We all have our routine before we perform and there is nothing like that last Tommie circle before we step foot on that floor."
Managing practice with Construction
Although the team has already won five national titles, senior Kristin Seifert, who has been a part of the team for three years, said getting the team ready for Nationals was a different story this year.
During the peak of their practice season the team was unable to practice in their usual spot – the third floor gym. Fortunately, a dance studio in Chanhassen became available for the women to use.
"The studio in Chanhassen was actually a blessing for us, since we were the only team there," Seifert said. "We were able to be efficient and productive, preparing us very well for performances at basketball games, and ultimately the national stage."
Starting in August and throughout the fall, the team held practices three days a week, and lifted two or three times a week.
Immediately following Christmas, practice times increased to seven hours a day, in order to prepare the girls for the National Competition. The team also performed at basketball games, the University of Minnesota and the Mall of America.
"J-Term for us consists of eating, dancing, sleeping and dancing some more," Chadima said.
Seifert feels the team worked hard not to burn out before the big competition.
"It is a lot of work, not only physically, but mentally, to stay prepared to peak at the national competition, and not in the weeks before," Seifert said. "We really did a great job this year of keeping the team motivated, and everyone did their part to have positive attitudes at practice and take feedback in a positive manner."
Gaining support
Despite their numerous national titles, lack of local recognition is not a letdown for the team.
"Our mission is to support [the St. Thomas athletic teams] since we are a school spirit organization as well," Seifert said. "Although we aren't able to get much attention from the school, we don't think it should be a reason not to give back, so we support the teams in any way we can."
But the women are doing their part to get their name on the radar.
"We are getting the word out through The Bulletin and by still performing at games throughout the spring, hosting a high school dancers clinic, and by hopefully being recognized through local newspapers and TV stations," Seifert said.
For Chadima, the moment of her team's victory will always be a memory for her to cherish.
"Hearing our names as the 2010 Open Jazz National Champions is a moment we will all remember forever," she said.
Ellie Galgano can be reached at agalgano@stthomas.edu