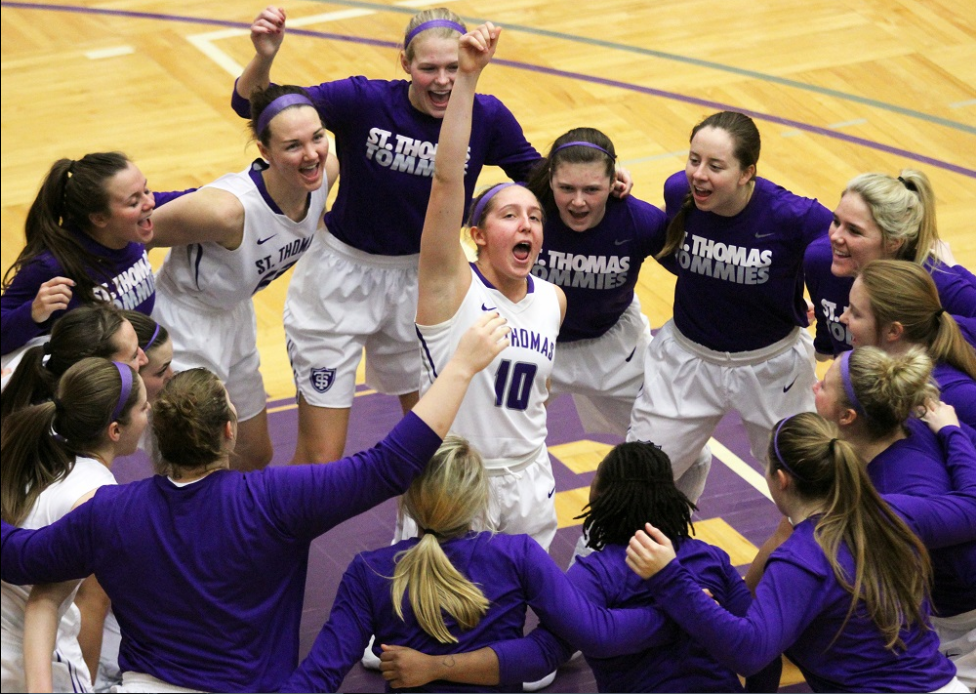 The St. Thomas women's basketball team continued their winning ways on Saturday, defeating St. Catherine University 79-46 at Schoenecker Arena.
The seventh-ranked Tommies (2-0 MIAC, 6-1 overall) showed off their range, making 14 three-point shots at a 52 percent clip on the Wildcats (0-3 MIAC, 3-5 overall). Forward Lauren Fischer led the deep-range shooting barrage, making all four of her three-point attempts in the first half. Fischer currently leads the MIAC in three point shooting percentage.
"We executed our game plan really well," Fischer said. "We have specific objectives on offense and defense that we try to do every game; we really met those tonight."
Coach Ruth Sinn pointed to St. Thomas' proficiency in the post as the main reason outside shots were so readily available on Saturday evening.
"Their game plan was to try to take away the post. That leaves the outside open, and we didn't just take the first (shot) available. We were really working on getting the best shot available and I thought the team did a nice job," Sinn said.
The Tommies made nine of their 10 free throw attempts against St. Kate's . The Tommies are making a MIAC-leading 77 percent of their free throws so far this season.
"We shoot free throws at least once every practice and we're not able to leave until we make 80 percent as a team, so there's definitely motivation for us to make those," Fischer said.
The Tommies excelled on the defensive end, holding St. Kate's to 46 points on 27 percent shooting and only allowed three assists. Forward Kaia Porter, who went four of five from the floor for 11 points, said communication is key while defending their basket.
"Vocalizing on defense is super important. It's probably one of the things we talk about most and every day (the coaches) are trying to get us to communicate more. Any situation at any point on the court you need to be talking with your teammates," Porter said.
"Defense is going to be big for us. At the end of the day, that's one of the only things you can count on. There will be days when the ball doesn't go in and you don't get the bounces, but you can always count on your defense to be there," Sinn said.
St. Thomas travels to Gustavus (3-0 MIAC, 7-0 overall) on Wednesday to take on the MIAC-leading Lions.
Kyle Manderfeld can be reached at mand4052@stthomas.edu