It's not too often in sports that you get a second chance, but St. Thomas will have exactly that Saturday.
With a 57-10 rout of Benedictine last weekend, the Tommies advanced to the second round of the NCAA playoffs where they will face a familiar foe: Linfield College. It's the same team that hosted St. Thomas almost exactly a year ago in the quarterfinals of the NCAA playoffs and eliminated the Tommies with a 31-20 win.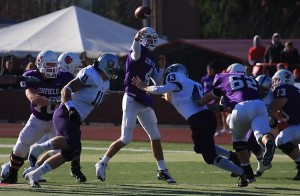 Since that heartbreaking defeat, St. Thomas has not lost a single game. The program has captured its first outright conference championship since 1983, but in order to keep its season alive it will have to turn the tables on the last team to beat it. St. Thomas players and coaches know how tough that will be.
"They're a very good team," senior Cyrus Allen said.
Linfield will enter Saturday's contest ranked No. 8 in the country, and returns many of the same key players that played a major role in St. Thomas' demise last season. The leading actor on that cast is senior quarterback Aaron Boehme, who has thrown for 24 touchdown passes and more than 2,400 yards at a 60 percent completion percentage this season. He also has run for nine touchdowns.
"They have a great quarterback," defensive coordinator Wallie Kuchinski said. "He throws a deep ball and runs around really well."
Slowing Boehme will be crucial, and Allen said he's a handful for any defense.
"We're going to have to get a lot of pressure on him, and hopefully he'll make some mistakes," Allen said.
READ MORE, SEE MORE
If the defense can force those mistakes, it could be a huge difference from last year's game. Linfield forced St. Thomas' offense into five turnovers, while the Tommies were only able to force one, giving Linfield good field position and short fields for Boehme and the Wildcat offense.
"The biggest thing for us is to minimize those mistakes," Allen said. "If we can minimize those we'll have a lot of success."
Minimizing mistakes certainly won't hurt the Tommies, who watched senior running back Simon Lamson cash in on their turnovers last year for three touchdowns. Lamson is having another excellent season, collecting four touchdowns in Linfield's 42-26 first round win over California Lutheran University. Lamson averages just over six yards a carry and has 15 touchdowns this season, so stopping his part of the Linfield offense could be huge for St. Thomas.
"It will help us if we can make them more one-dimensional," Allen said. "If we can shut down their run game and force them to pass, it will be more difficult in the cold."
The weather certainly promises to play a factor Saturday. The forecast calls for below-freezing temperatures all day, so it will be a far cry from the sunny, comfortable Oregon weather of last year's contest. The team that is able to establish its offensive rhythm despite the weather will go a long way, and Allen said he thinks it will play into St. Thomas' hands.
"[The cold] behooves us," he said. "Our team prides itself on how we adapt to any obstacle and any form of weather."
If nothing else, it will set the stage for St. Thomas. People say revenge is a dish best served cold, and if the Tommies have their way it will be delivered Saturday afternoon at Palmer Field.
Jordan Osterman can be reached at jrosterman@stthomas.edu.