Video by Michael Ewen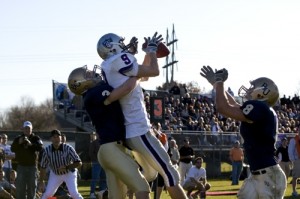 Sophomore quarterback Dakota Tracy threw for three touchdowns to help St. Thomas (8-1, 7-1 MIAC) top Bethel 19-10 Saturday afternoon in Arden Hills. The win locks up second place in the MIAC and nearly guarantees an NCAA playoffs at-large bid.
A strong defensive effort was needed against the Royals and during the last MIAC game of his career, senior Kris Kopp delivered. Kopp recovered two fumbles and sealed St. Thomas' victory with a diving fourth quarter interception.
"Kopp was on fire today," said defensive back junior Matt Griswold. "It was great to see him come out like that in his final MIAC game."
The Royals entered the game with two losses, both by three points or less, to nationally ranked St. John's and Wheaton. But the Tommie defense was up to the task of trying to contain the MIAC's second leading rusher, junior Logan Flannery, and top receiver, senior Joel Quick.
The Tommies forced an early fumble from Flannery. Kopp recovered and gave the Tommies the ball deep in Royal territory. St. Thomas capitalized on the turnover as sophomore quarterback Dakota Tracy threw an 8-yard touchdown pass to senior Jake Friederichs.
After Bethel notched a field goal, St. Thomas increased its lead to 13-3 when Tracy connected with senior Tony Margarit on a 4-yard touchdown pass. Tracy used a pump fake to get several Royal defenders in the air, and found Margarit in the corner of the end zone. Then late in the second half, Kopp recovered yet another Flannery fumble.
"Defense wins championships by getting turnovers," Griswold said. "That's something we pride ourselves on."
Tracy was in his second full game starting at quarterback, and sophomore Greg Morse played only one series.
"Dakota is playing really well right now," Griswold said. "That's the luxury of having two good quarterbacks."
Tracy completed 11 of 18 passes for 105 yards and three touchdowns. His one mistake came during the third quarter when he was intercepted by junior linebacker and former Tommie Ross Petterson.
Junior Nick Gleisner secured St. Thomas' win as he out jumped two Royals for a 5-yard touchdown catch giving the Tommies a 19-10 lead.
The Royals last attempt to score was denied, as a poor snap on a field goal attempt allowed senior linebacker Tommy Becker to smother the Bethel holder.
The Tommie offense racked up 171 rushing yards, with 133 yards coming from junior Ben Wartman.
"We had a great week of practice and prepared really well," Wartman said.
No. 10-ranked St. Thomas could move up in the polls after Saturday's win.
The Tommies will host Northwestern College (5-4) next weekend in a non-conference game. The game could be the final tune up for a potential playoff run.
"We're ready to keep getting better," Griswold said.
Danny Grimmer can be reached at degrimmer@stthomas.edu