Every year students and staff walk through the rooms of Haunted Cretin hoping to be scared, but this year two rooms created more controversy than fun.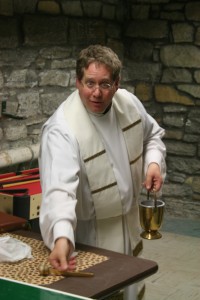 One room included a Ouija board and the other included dead baby dolls causing Residence Life to reassess how they approve the rooms. Campus Ministry Director the Rev. Erich Rutten blessed Cretin Hall following the event.
"It was kind of the occult," Rutten said. "Some might say, 'oh, it's just a joke it's just for fun,' but I mean as Catholics we take the spiritual life very seriously, and we believe there are good spirits and bad spirits … but we prefer not to glorify the occult."
Rutten said the room that featured dead baby dolls was another cause for concern. He wasn't at the event, but he said students reported the dolls were hanging.
"(Someone) said they were displayed, and but that there had been violence done, or that there were dead babies," he said. "The point is that kind of violence against infants is inappropriate, and I don't think we need that for fun."
These blessings aren't unusual. Every year Campus Ministry tries to bless residence halls.
"I think it helps to provide students with a sense that they're in a safe environment," Rutten said.
Rutten was asked to bless Cretin Hall, which he did last week.
"Some students expressed some concern following the Haunted Cretin just to kind of reestablish that sense of a place of goodness," he said.
Residence Life Director Aaron Macke said each year the rooms are vetted to make sure there is an appropriate level of touching and scariness. He said though the rooms do go through an approval process, it can be difficult to make sure everything is appropriate.
"It's one of those things that it can be easy to kind of forget about that there's a contrast there, a contradiction with the Church," Macke said. "It was just an oversight, and so we did have it brought up as a concern that it was in one of the rooms."
He added, "(When) we're going through it, we have to take our time a little bit more, go a little bit slower, look at all the things in there and really look at them through the lens of, 'is this something that is not appropriate for us as a Catholic school?'"
Macke said while the approval process will be stricter and vet anything that goes against the Church teaching, it does not mean there will be any significant changes to Haunted Cretin in the future.
"But that will not equate to in my opinion, a toning down or restricting," Macke said.
Freshman Claire Decelles did not take offense to the rooms, especially the one with the Ouija board.
"It was creepy. That one wasn't as scary as the other ones," Decelles said. "I guess because there wasn't anybody popping out at you."
Freshman Anh Tran said that the rooms were scary but were not offensive.
"No, no it's OK," Tran said. "But the babies were scary. They were like flying around you so it's creepy."
Tran had more of an issue with the wait to get into Haunted Cretin.
"You had to wait in line for like one hour to get in and then you can only stay there for five minutes," Tran said.
Tom Graves can be reached at grav5886@stthomas.edu.