Going home for the summer is not an option for all St. Thomas students, especially when home is halfway around the world.
Many international students live at St. Thomas during the summer, including Linda Nininahazwe, a senior from the Republic of Burundi. She has stayed on campus the past two summers: This year she is taking classes and last summer she had a research grant. Nininahazwe said it's hard to stay at school that long, and it was especially difficult her first summer.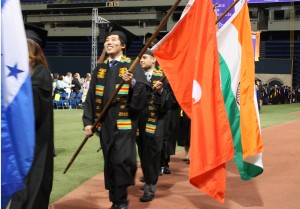 "But I have been so lucky to go home every 18 months," she said.
Office assists in summer planning
Most international students staying in the U.S. work or take classes, said Deborah Knaust, office of international student services director. Her office helps international students with their summer plans.
The specific situation depends on the student, she said. Families are sometimes involved with the decision to stay for the summer or there could be financial incentives to stay.
Graduate student Ahmad Alkhathami from Saudi Arabia is spending his summer volunteering for two organizations and enjoying a break from classes. The office for international students helped him with his plans.
"I went to them and asked about the rules and laws for doing an internship and volunteer for the international students," Alkhathami said. "They gave me answers to all my questions."
Sophomore Trang Anh Do chose to stay on campus and take summer courses to earn credits to graduate early. She will also travel to Vietnam to visit friends and family.
"[The office of international student services] helped me finish the paperwork for my trip back home and also gave me directions on how to renew my visa," she said.
Visas prevent frequent traveling
At least 50 percent of international students decide not to travel because of visa issues, Knaust said.
"It is hard to get the visa appointment, so it is hard to get visas renewed," Knaust said. "There is sort of a fear of being delayed."
Shalaw Mohammed, a junior from Iraq, is one student who limits his travels because of his visa.
"It takes quite a while to renew a visa for me, so I limit my travels to reduce the risk of not getting the visa or being delayed from school."
Staying for the summer does take its toll, even though Mohammed is used to being away from his family and friends.
"It's quite hard, especially during the summer knowing everyone is home and enjoying a nice summer. There are days that I really wish I was home," he said.
Support keeps international students positive
Immigration status and visa questions are "another burden for international students" that most people don't realize, Knaust said.
"Status is a stressor they have to live with [that] other students don't have to worry about," she said. She added that counselors in her office help students "find alternatives and explain the rules so they can have a great experience."
Many people have made her feel welcome at St. Thomas, Do said.
"Without the help and encouragements from my friends, my professors and the staff here, it would have been much harder for me to overcome my homesickness," she said. "People are so nice and helpful to me, and I'm extremely grateful for that."
Theresa Malloy can be reached at mall5754@stthomas.edu.