Most St. Thomas students do a majority of their drinking at bars or parties, but some are bringing the booze when they hit the books.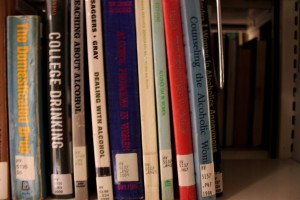 At 8:46 p.m. on Thursday, April 17, a library staff member reported to Public Safety that a bottle of alcohol was recovered from a lower-level book shelf at the O'Shaughnessy-Frey Library.
Wells Farnham, Public Safety's crime prevention lead officer, said campus officers were sent to remove the bottle, but its involvement was fairly limited.
"We just went down there, (and) found the bottle of alcohol," Farnham said. "There was a minimal amount of alcohol left in it. We disposed of the alcohol and recycled the bottle, and that was it as far as our involvement."
Farnham said he could not recall the brand of alcohol but described the bottle's size as standard.
Library Director Dan Gjelten said this is not a typical occurrence at the library.
"This is very rare, and the only time it has happened this year. I suppose it happens once a year," Gjelten said.
Although Gjelten said these types of documented incidents may be rare, Farnham suggested that if the task is as simple as emptying a beer can and throwing it away, he understands why someone might do it themselves as opposed to calling Public Safety.
"I recall last year a couple of reports of stuff (alcohol-related items) being found in the garbage but not many," Farnham said. "Last fall, our staff removed two intoxicated students from the library; so as far as our involvement, the last two years four or five incidents that I can think of off the top of my head. It's not as if, from a report standpoint, we've got a record of a lot occurring."
As far as consequences go, Farnham said the library is not an authorized space to consume alcohol, so if a person is caught, it will be up to the dean's office to determine any judicial action.
Farnham also said to avoid alcohol-related problems, Public Safety officers patrol the library three times a day.
"Officers are walking through the library; they're looking out for inappropriate behavior," Farnham said. "Something like people drinking alcohol is going to probably stand out if it's in an obvious area, and if we're finding alcohol, that's something we're going to document."
Senior Matt Scott said he has dealt with Public Safety firsthand.
"I'd been in the library for about 10 straight hours studying genetics, and someone offered me an ice cold brew," Scott said. "About 20 minutes later, three Public Safety officers appeared from the bookshelves and wrote the people by me up. Long story short, I had to meet with the dean of students on three separate occasions because of an empty beer can on a table in the library, even though everyone was over 21."
Sophomore Chelsea Rief said she has also witnessed drinking in the library.
"I saw a girl in the library taking shots, and she tried stealing a book and then got caught by Public Safety on the fourth floor," Rief said.
Freshman Rosey Coryn said she thinks students might drink in the library solely to cross it off their "bucket list."
"I think they're just doing it so they can say they did it," Coryn said.
She also said it makes sense that it would be happening around this time of year.
"I don't think it would be near finals; kids aren't that dumb, so doing it right now makes sense," Coryn said.
Freshman Taylor Reinert said she has never been a witness to activity like this but could see it happening.
"They feel like they're rebelling, so they have more power until they get caught," Reinert said.
Although it may not bother some people, freshman Justin Marvin said he could think of a better option.
"If you were just trying to think of something spontaneous to do that night, I think there's better places to drink," Marvin said.
"I suppose because it feels a little risqué," Farnham said. "Maybe if you're doing a lot of work it's something they feel takes the edge off. Other than that I couldn't say. I never drank in the library. It's never occurred to me as an option."
Briggs LeSavage can be reached at lesa4364@stthomas.edu.