Thanks to a recently passed law, students will have an additional resource to use when registering for classes in a couple weeks.
Colleges and universities across the country must now disclose the retail prices of all required and suggested textbooks for each course, and the prices have to be listed before registration begins. The law is intended to help students make informed decisions about which classes to take, based partly on the cost of the class.
Sophomore Sam Pawlak, an education major, said he thinks the legislation will benefit students.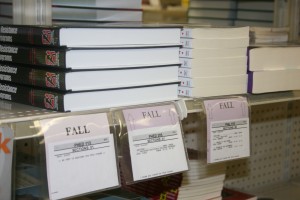 "It is pretty nice," he said. "Although it won't affect me personally, there are students who will definitely benefit from it."
But Pawlak said he would never decide which classes to take based on the price of the textbooks required for the class.
"You can get those books on Amazon if you need to for a lot cheaper," he said.
The Higher Education Opportunity Act became law in the summer of 2008, reauthorizing and amending the Higher Education Act of 1965. The provision about textbooks in the new act took effect July 1.
University adjusts to provision
Those involved with student registration on campus are adjusting to the new law.
"We had to back up the whole process for book order submission back to seven weeks [prior to registration], because we have to have all that information on our website by the first day of registration," Bookstore Director Tony Erickson said. "That affected a lot of departments because they hadn't even made the room assignments or the faculty assignments on the Web yet."
Making sure faculty knew about the new law was a very important part of the process, said Marisa Kelly, dean of the college of arts and sciences.
"We've had several department chair meetings where this has been on the agenda, both last spring and as we got closer to the implementation date, reminding them to talk with their faculty about this and making sure that they understood the requirements," she said.
One question is whether the quality of textbooks chosen by professors will be affected by this law, since they must submit choices earlier than they used to submit them.
"That is a danger, that the professors won't have as much time to review new editions," Erickson said. "But because of this law, the publishers are going out in the fields and visiting the professors earlier than they used to, so the whole cycle is being shifted back by six weeks or so."
But textbook choices by professors may still be influenced by the new law, said Angela High-Pippert, associate professor of political science.
"It may make professors less willing to mix it up and try new books, because they would not have had time to adequately read and consider how they fit into the larger course experience," she said.
Kelly also said there are a few drawbacks.
"It gives [professors] less flexibility," she said. "I think there are ways that the law could have accomplished the same thing but allowed for a bit more flexibility in ways that would be beneficial to students."
Because all requests for assigned texts were due earlier than usual, the bookstore was able to order books sooner this fall, which Erickson said was a benefit.
"It helped us get a tremendous amount of used books for this fall," he said. "We have never had as many used books as we did this semester, so it was very helpful for us."
Because this is the first semester the textbook provision will be in effect, making the new information visible to those registering will be important, Erickson said.
"There will be a link from the registrar's registration page to the bookstore's website so students can actually go in and see what books are being used for what classes before they officially register," Erickson said.
A significant difference in student's registering decisions?
High-Pippert said she doesn't think this change will make a difference with many students.
"I think for some students it could be critical, but I think for most students it will be ignored," she said.
Kelly agrees that the legislation will not significantly affect registration choices in coming years.
"I think that it can potentially have an important impact on students in particular circumstances in any given semester, but it is only one piece of information amongst a larger set of information that students will use in making decisions about course registration." Kelly said. "I don't think students are suddenly going to focus just on cost and ignore other things that are more directly tied to the learning experience."
Sophomore William Hoffman, a chemistry major, said he doesn't consider the price of the textbooks when he is registering for classes.
"I usually don't worry about that until about a month before classes start," Hoffman said.
Dan Cook can be reached at cook9156@stthomas.edu.