On Veterans Day, you may have noticed many servicemen and servicewomen in uniform and the 24-hour vigil on campus. What you may not realize, however, is that the number of veterans in St. Thomas classrooms is increasing.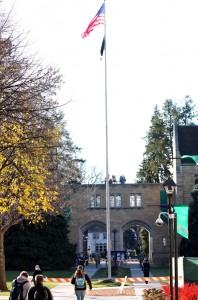 More student veterans have enrolled at St. Thomas this year than last year, according to Terry Eggert, operations manager at the Registrar's Office. He said there could be even more who are not listed in the books.
"These numbers only reflect student veterans who have self-identified so they can receive some type of veteran educational benefit," Eggert said. "There may be other student veterans who are not eligible or no longer eligible for educational benefits, too."
Eggert said there are 62 undergraduate veterans, 53 graduate school veterans, 17 law school veterans and 3 veterans on the professional level.
In 2008, senior Kyle Jones, Marine Corps veteran and founder of St. Thomas' Veteran Association (STVA), asked St. Thomas to join the Yellow Ribbon Program. The program helps veterans afford private universities. Last year was St. Thomas' first year in the program, so participation was limited to only 15 veterans.
This fall, St. Thomas removed the limit after STVA met with university staff about encouraging more veterans to consider attending the university.
Financial support programs help veterans pay for school
The yellow-ribbon provision and the new GI Bill provide benefits that allow for a veteran to attend school full-time without worrying about a job or paying bills, Jones said.
"A full-time student veteran receives between $1,250 to $1,447 a month to live off of, pay rent, buy food, and gets an additional $1,000 a year for books and supplies," Jones said.
READ MORE, SEE MORE
Sergeant First Class David Sepeda, current STVA president and a junior student veteran studying operation management, said he also appreciates what the Yellow Ribbon program has done for veterans.
"The Yellow Ribbon program is awesome," Sepeda said. "The money really makes it physically possible for soldiers to come here, and any way we can get the money to the veterans to go to school, I say, 'Let's do it.'
"Most veterans I know have aspirations to be the best that they can be at what whatever it is that most inspires them personally and professionally. Life comes with many twists and turns and things don't always go the way we think they should, but if the military teaches one thing, it is that we can always adapt and overcome in any given situation."
National study finds student-veteran college experience is different
The National Survey of Student Engagement found that that student veterans interact less with their professors and receive less support from universities than non-veteran students.
Sepeda agreed with these findings.
"It appears that, through no fault of their own perhaps, universities treat veterans in the same manner as the rest of the traditional students out of fairness to everyone," Sepeda said. "There appears to be no flexibility for those of us who have families, marriages, houses, community responsibilities, our children's education issues and employment. The rigidity of these traditional student demands are big time turn-offs for many of us veterans."
Yet Jones said this is not true at St. Thomas. He said veterans have access to a useful support system.
"Overall, I do not feel veterans at UST feel they are unsupported," Jones said. "One need only look as far as the St. Thomas Veterans Association. STVA can help bring together veterans and direct them to the support services on campus."
Student veterans have difficulty finding jobs
Student veterans are also having problems finding jobs, Jones said. He described the problem as a "mixed-blessing issue that is over-qualification."
"Entry-level positions are built for the experience level of a traditional-age college student," Jones said. "But one-page resumes with college at the top do not stand a chance when you have four to 14 years of professional military experience. When veterans apply for an internship, some have said that would be like telling Michael Phelps to put on arm floaties and get in the shallow end."
Student veterans could benefit from more support on campus
Jones said St. Thomas has ultimately worked hard to build the student-veteran presence on campus.
"A dedicated veterans resource center is something STVA has been talking with UST about as a top priority in order to stay competitive and offer the kinds of veterans' resources that veterans look for when 'shopping' for schools," Jones said.
And overall, Jones said he believes St. Thomas is working to make veterans feel welcome.
"St. Thomas has chosen to make veteran services a top priority," he said. "Though it will take time and active involvement from veterans, I believe UST will become known for excellence in veterans support."
Cynthia Johnson can be reached at john3175@stthomas.edu.