St. Thomas football players should get a small piece of the pie from all of the profits made in the Tommie-Johnnie game at Target Field.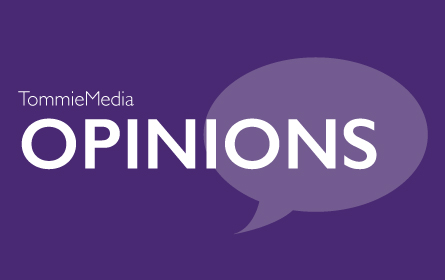 On its website, the NCAA lays out its Division III philosophy statement. The organization says to achieve this: Division III schools must "place special importance on the impact of athletics on the participants rather than the spectators" while also providing a "greater emphasis" on students and faculty of a school rather than the "general public and its entertainment needs."
Playing Tommie-Johnnie at Target Field does not seem to satisfy the NCAA's own Division III philosophy statement. One of the intentions of playing this game at Target Field undoubtedly was to draw fans more fans than usual.
"What a great opportunity to play the nation's biggest Division III rivalry game in a venue such as Target Field. It not only allows us to highlight both proud institutions and our tremendous history, but it also lets us bring the game to a much larger game day audience," St. Thomas football coach Glenn Caruso said in an interview with Fox 9 News.
Clearly, bringing in a larger game day audience was of high priority. Focusing on bringing in more fans does not seem to capture the NCAA D-III philosophy. In fact, it becomes apparent that the game was focused more on the "general public and its entertainment needs."
Additionally, Twins president Dave St. Peter said in a news release on Oct. 10, 2016 that "as the first-ever football game at Target Field, the historic Tommie-Johnnie rivalry should help create a special experience for the players, coaches and most importantly — the fans. We cannot wait for kickoff."
Part of what D-III sports are supposed to represent, according to the NCAA's statement, is "the impact of athletics on the participants rather than on the spectators," but St. Peter, the facilitator of this game, said the fans are the most important part.
I think the contradictions between what this game represented and what D-III athletics are supposed to represent are clear. The game is over, St. Thomas won, it broke the attendance record for any D-III sporting event by nearly 20,000 people, and there is no reason to beat on the past.
Part of this equation that should not be overlooked is that fans equal money. They purchase the tickets to watch the game and are customers at the overpriced Twins concession stands. Many people who went to the game may have noticed the inflated ticket prices. A regular St. Thomas football game ticket price is $8 for an adult while tickets for the Target Field game ranged from $15-$99 depending on where you sit.
It is unclear how much money St. Thomas will make from the game, but the Pioneer Press reported St. Peter said, "We'll write a healthy-sized check to St. Thomas."
Because of the high attendance numbers and thus high ticket sales, a cut of that 'healthy-sized check' should go back to players. After all, the fans came to watch them. They are the single driving factor as to why all of these tickets were purchased and why so much money was made.
Before you jump to "They are students, not professionals, and therefore they cannot receive anything." Let's dig into the rulebook. The NCAA D-III manual (Rule 16.12.1) states that a Management Council may approve a request by an institution to provide additional expenses to student athletes.
The St. Thomas Athletic Department has the opportunity to present its case to the Management Council as to why St. Thomas football players should receive additional expenses. This game was played away from the St. Thomas campus and, as shown above, was not entirely in agreement with what the NCAA says D-III athletics should resemble. Family members had an extra burden of higher-priced tickets, concessions and transportation/parking. Providing extra expenses (meals, snacks, apparel) to the players, who they came to watch, could make up for the extra spending loyal family members had no choice but to comply to if they wanted to watch their son, grandson or brother play against the Johnnies.
Also, Figure 16-1 on p.124 of the manual says St. Thomas has the opportunity to provide every member of the football team with "participation awards." These awards allow for compensation up to $225 for underclassman and $425 for seniors. Although they cannot be compensated with cash, it can come in many different forms such as apparel, gift cards, headphones, memorabilia etc. All the prices of the awards received by each player may not exceed the amount listed above for each individual.
Tommie-Johnnie did not satisfy the D-III philosophy put forth by the NCAA. Players have to sign athletic statements to be eligible to play, but are schools not held accountable as well? This game clearly wasn't like any other D-III athletic contest in history. These players should be compensated for all of the fans they brought to come watch them at Target Field. And under NCAA rules, that is possible for them.
Columnist Jack Dodd can be reached at dodd0013@stthomas.edu.