College students drinking is essentially unavoidable. College students drinking and driving should not be. A safe ride home for students should be a priority for St. Thomas if they value our safety and can realistically accept the fact that the consumption of alcohol on and around campus is inevitable.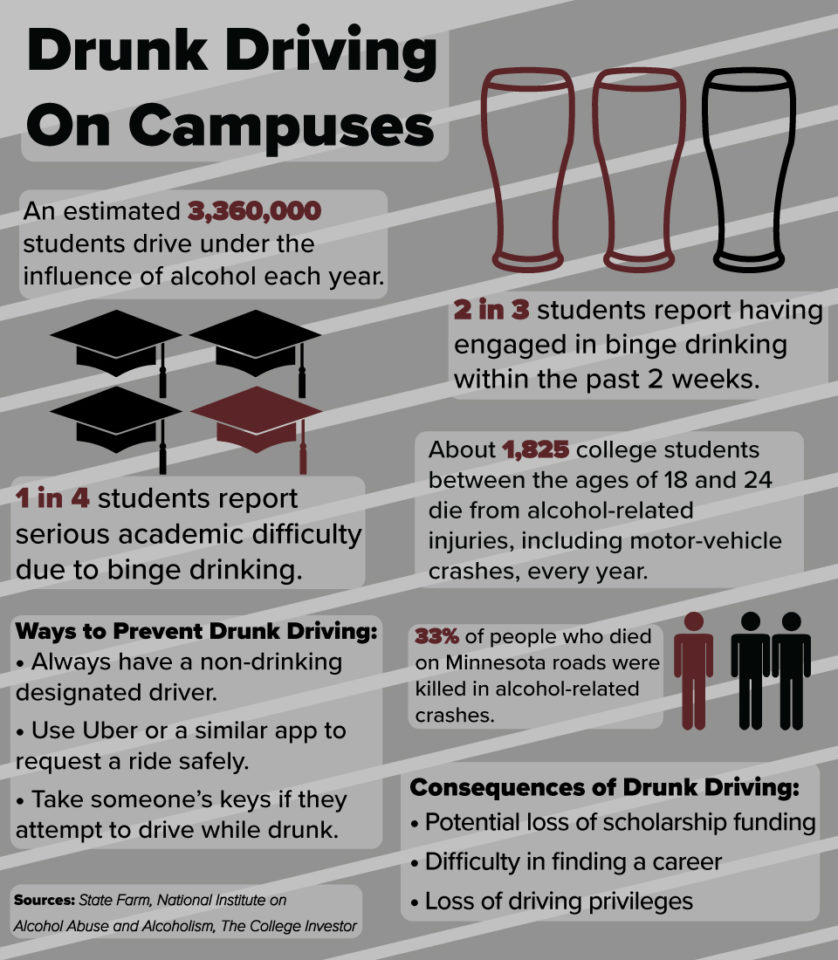 In 2015, roughly 1,825 college students between the ages of 18 and 24 died from alcohol-related accidental injuries, many involving motor-vehicle crashes. This is not an irrelevant or uncommon problem. Too many college students are getting in a car with an intoxicated driver, or being that driver themselves.
Personally, I have the displeasure of knowing many people who have driven under the influence as well as received punishment or physical injury because of it, and I don't think I'm alone.
As a community and as a university we need to stop looking the other way and start focusing on practical and realistic solutions. A free and campus-led taxi or chauffeur addresses a lot of these problems. The University of Minnesota has a similar program called the Gopher Chauffeur. According to the university's website, "The Gopher Chauffeur is a free transportation service that promotes safety in the campus community by providing University of Minnesota students with safe rides home. The Gopher Chauffeur operates 10:00 p.m.-2:30 a.m. on Thursday, Friday, and Saturday nights. It will pick students up from the neighborhoods surrounding the University of Minnesota campus and drop them off at residences on or near the University of Minnesota west bank, east bank, and St. Paul campuses."
The program is student-led and employs other students as drivers. The Gopher Chauffeur provided 18,451 safe rides just last year; while St. Thomas' student body is a great deal smaller than the University of Minnesota's, the effect it could have on our students is still relevant and worth the cost.
There are definitely other ways of finding a sober ride, especially now with apps like Uber and Lyft; however, seeing as even with these options the problem is still significant, adding a free and easily accessible alternative is a good idea.
A campus chauffeur on weekend nights, mirrored like the one at the University of Minnesota, would offer alternative sober rides home without spending money, prevent students from walking alone at night, employ St. Thomas students and create a better relationship between the school and the students based upon a mutual respect for student safety. If St. Thomas wants to promote safety in a realistic and tangible way, they would consider adding a campus chauffeur.
Sam Miner can be reached at mine0034@stthomas.edu