Senior tight end Charlie Dowdle participated in the inaugural Tropic Bowl all-star game this January in Miami, Florida. The brand new NCAA all-star game showcased some of the top senior talent in college football, most of whom are looking to go pro.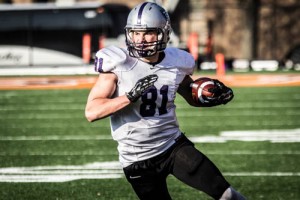 Players represented prominent schools from across the country, including the Atlantic Coast, Big 12, Big Ten, Pacific-12 and Southeastern conferences. Thanks in large part to his success at St. Thomas, Dowdle was contacted several weeks prior to the event and invited to fill an open tight end spot on the roster. He was one of only two Division III players of the 108 who participated in the game. Although the event featured primarily Division I players, Dowdle felt as though he fit right in.
"I didn't feel too overwhelmed with the speed of [the game]," Dowdle said. "It was slightly faster, but it wasn't a major jump from the high-level competition we saw in D-III."
The Division III First Team All-American was a large part of the Tommies' national runner-up finish this year, with 40 receptions for 842 yards and 11 touchdowns. His 24 career receiving touchdowns rank second-most in school history, and his 1,996 career receiving yards are second-most by a St. Thomas tight end.
"Just to look at him and look at his numbers and his stats really don't do him justice," said coach Glenn Caruso. "This kid is probably the most thoughtful kid I've ever coached in 20 years, and he never missed an opportunity to get better, to make his team better or to lead. And those are big shoes to fill."
Dowdle said he was thrilled with the opportunity to represent St. Thomas in the Tropic Bowl and felt it was a great experience playing with some of the big names in D-I football.
"I've watched a lot of those guys on TV the last few years, so it was really cool to play with some of them from the bigger schools and to see how I matched up with them," Dowdle said. "I felt good about it. I felt like I held my own."
But Dowdle did much more than that. He was one of his team's leading receivers in the game with three catches for 54 yards, and he helped lead the American team to a 38-14 victory.
The Tropic Bowl was also an opportunity for Dowdle to get the attention of professional scouts. More than 50 scouts from 27 NFL teams and four Canadian Football League teams were on site. Dowdle said he spoke with scouts from several NFL teams after the weekend and plans to continue training for his Pro Day and NFL Regional Combine this spring. He has been training at Englebert Training Systems HQ in Woodbury as a part of an elite NFL combine program that has included many pro prospects in the past.
The Regional Combine and Pro Day will give Dowdle a chance to display his professional potential in a series of high-level drills and testing, in hopes of earning a spot at an NFL team's rookie mini-camp this summer.
"Depending on how I do at the Pro Day, the goal is to get a rookie camp invite and then go from there," Dowdle said.
The All-American tight end would become the fourth Tommie NFL prospect under coach Caruso. Previous players include defensive end Ayo Idowu (Seattle Seahawks), fullback Willie Schneider (Indianapolis Colts) and punter Garrett Maloney (Minnesota Vikings).
"What will bode well for him is that he's the style of tight end that a lot of NFL teams are looking for 6 (foot) 3, 6 (foot) 4, 240 pounds, athletic, can block in space but also a matchup nightmare," said Caruso.
Dowdle will participate in the NFL Regional Combine at the Minnesota Vikings Winter Park facility on March 5, followed by his Pro Day at the University of Minnesota later in March.
Joey Geske can be reached at gesk8583@stthomas.edu.