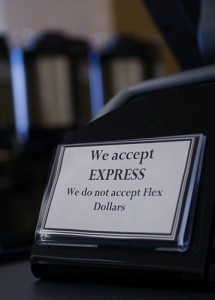 As students found out this week, the Coffee Bené shop inside the O'Shaughnessy-Frey Library will not accept flex dollars.
Early reports from university sources claimed that both flex and eXpress would be accepted.
Director of Library Services Dan Gjelten addressed the issue.
"Yeah we're going to use eXpress," Gjelten said. "But it was never our intention to use flex."
Manager Molly Krueger said the coffee shop can't accept flex because it is an off-campus vendor.
"We were never planning on taking it," Krueger said. "We actually can't because we're not owned by St. Thomas."
Krueger claimed rumors of flex being accepted spread when Coffee Bené's card machine was broken.
"Some people who have flex got away with it because they were writing [their account numbers] down," Krueger said, adding that she accepted payments from a St. Thomas ID because she wasn't aware of flex.
Freshman Sara Nordstrom is one student who used her card to buy coffee.
"I paid with eXpress, but I would prefer flex," Nordstrom said. "That would be really nice."
Freshman Allye Goodson said she is grateful that the coffee shop takes eXpress.
"It's just easier because you have your card with you all the time … you don't always have cash," Goodson said.
Zach Pagano and Miles Trump contributed to this report.
Kelly Trussell can be reached at kmtrussell@stthomas.edu