Fliers advertising sperm donation for 123Donate.com's Roseville, Minn. donation office have been catching student and administrators' eyes around the St. Thomas campus in recent weeks.
Some students said they feel St. Thomas is not the right place for these advertisements, while others are indifferent.
Senior Rachel Berg said she thought the fliers should be removed.
"It's a little inappropriate. It doesn't go in with the Catholic statements at St. Thomas," Berg said.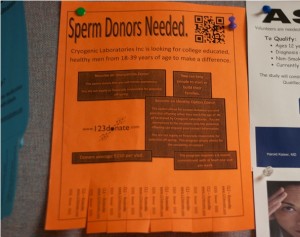 Junior Todd Baron agreed and said that although he found aspects of the advertisements humorous, St. Thomas is not the appropriate venue.
"It's just not something you do in school for money here," Baron said "It's like saying 'Let's not do job applications, or go work, let's just sell our sperm instead.'"
Other students like sophomore Aaron Brown don't see the advertisements as controversial.
"I just don't think it's a big deal. Just because it's a Catholic university doesn't mean everyone's Catholic," Brown said. "But hopefully it doesn't offend anybody."
Junior Shalaw Mohammed said these advertisements could be "sketchy" but was not bothered by the fliers.
"It's just people trying to make money," Mohammed said.
The fliers have been prominently posted throughout the O'Shaughnessy Educational Center and near the north entrance to Aquinas Hall.
Director of Campus Life Margaret Cahill said the fliers are not subject to approval unless hung in the Murray-Herrick Campus Center building.
Cahill was unaware of any approval process for other buildings on campus.
The Rev. John Malone, vice president for Mission, said the controversy over these fliers could spark a central system for approving advertisements in any St. Thomas building, and he intends to suggest one.
"I think that we, as a Catholic institution, have to live up to what the basic teachings are, and the teachings of the Catholic church are that artificial insemination is beneath the level of appropriate means of procreation," Malone said.
Malone sees the fliers' content as unseemly and added that they are very explicit and inappropriate for a Catholic campus.
"(The flier) is kind of disgusting," Malone said. "It has gone to a level of bad taste even if you approved of the notion. . . . When I see them, I take them down."
Malone said the poster he saw hanging in Aquinas didn't use the word "semen," but was still obvious in what it was advertising.
"Anybody that's taken a biology course could see," Malone said.
Although the Catholic Church opposes artificial insemination, Malone said the Church endorses research and medical improvement on fertility and supports helping infertile people have a family.
Briggs LeSavage can be reached at lesa4364@stthomas.edu.