[slidepress gallery='101009_footballss']
Augsburg hung around in the first half, but St. Thomas dominated the final 30 minutes to bury the Auggies 55-17 at Palmer Field Saturday.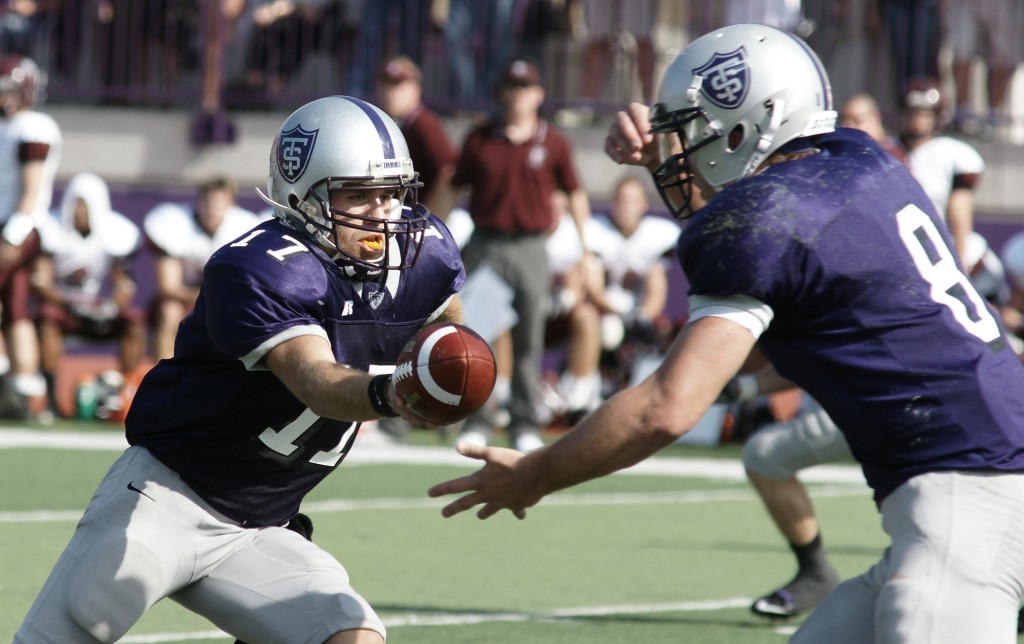 St. Thomas led 14-10 at halftime, but the Tommies scored 20 points in the third quarter to open up a lead that would only grow from there. Junior Colin Tobin scored twice — once from 67 yards out — and finished with 114 yards. All-American running back Ben Wartman had 118 rushing yards and a touchdown score. Junior Fritz Waldvogel led St. Thomas' receiving core with 150 yards as the Tommies racked up 562 yards of total offense.
Outside of a 70-yard touchdown strike when the Auggies trailed 48-10, the St. Thomas defense did well to keep one of the most prolific offenses in the MIAC in check. After allowing 10 first half points, the defensive starters allowed just 13 Augsburg yards in the third quarter. Substitutions took over throughout the fourth quarter to close out the game and St. Thomas cruised to its sixth win of the season.
Seven different Tommies scored on the day as St. Thomas scored 40 or more points for the fourth time this season. Sophomore Logan Marks and junior Ben Graham both had touchdown receptions, while junior Dakota Tracy, Wartman, sophomore Andrew O'Keefe and freshman Willie Schneider all scored on touchdown runs.
The win moves St. Thomas to 6-0 and keeps the team atop the MIAC with competing Bethel, who defeated St. John's 17-14 Saturday.
Jordan Osterman can be reached at jrosterman@stthomas.edu.