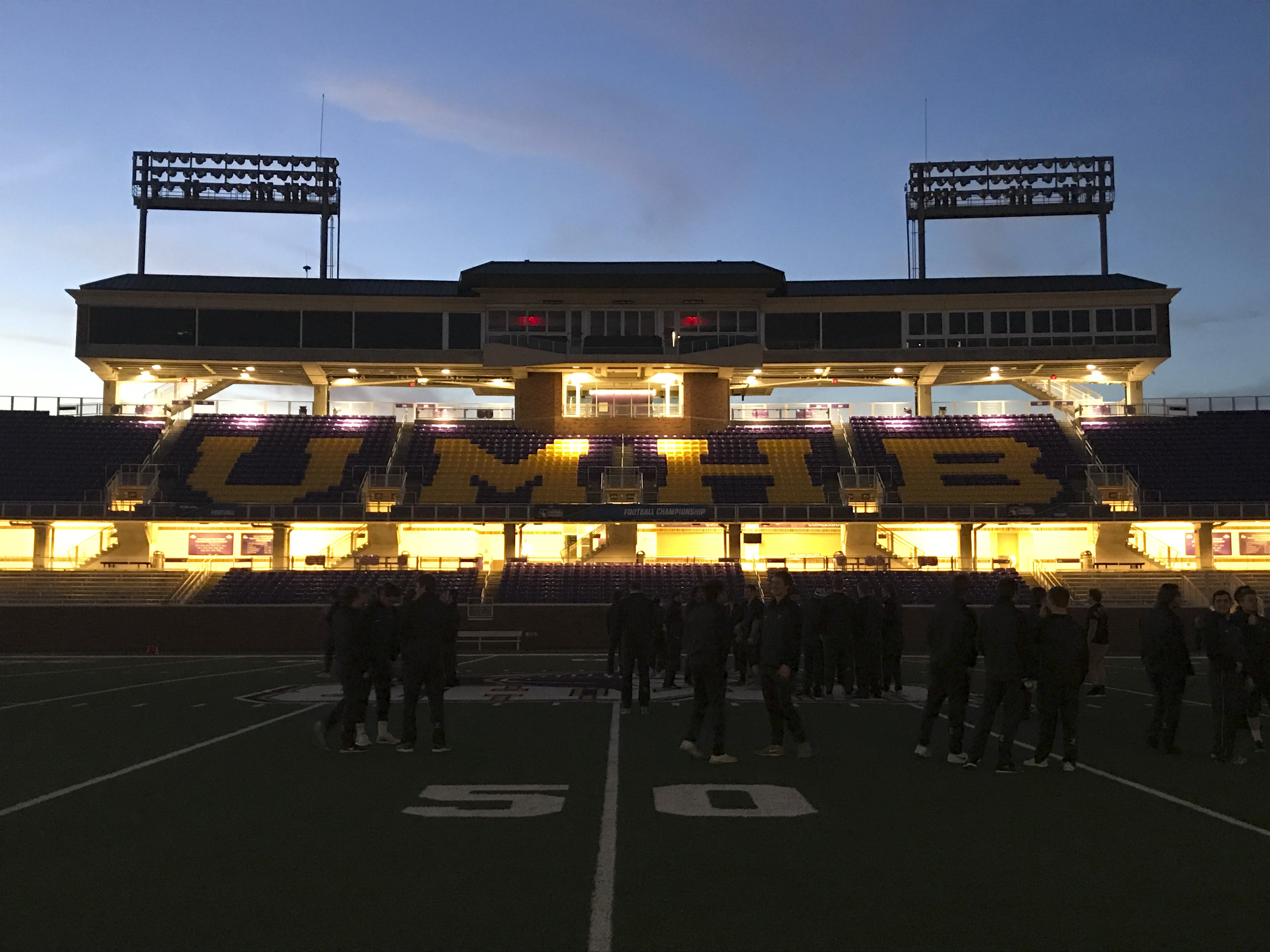 TEMPLE, Texas – No. 4 St. Thomas football prepares to face its toughest opponent yet in the defending national champions, No. 1 Mary Hardin-Baylor, in the NCAA Division-III national quarterfinal game. The two teams are slated for a noon kickoff Dec. 2 at Crusader Stadium in Belton, Texas.
Saturday's game is the first time the Tommies (11-1) and the Crusaders (12-0) have played each other. Coach Glenn Caruso said Friday that it's always fun when given the opportunity to play a good team for the first time.
"For Mary Hardin-Baylor to have as good a run as they've had and for us to have as good a run as we've had over ten years, it's kind of strange," Caruso said. "You know, we've been lined up in the brackets where– if they would have won a couple games or we would have won a couple games– we would have already played, but it's kind of unique. It's definitely fun."
This is St. Thomas' first postseason road game since facing Mount Union in the 2015 Stagg Bowl. Caruso said there is a comfort in being at home, but road games allow the Tommies to tighten their focus and grow as a team.
"We don't get a chance to have, if we were at home, all the meals and the meetings together and all the walkthroughs that we normally do," Caruso said.
And for the Tommies, being on the road in the postseason brings them one step closer to their ultimate goal.
"If you want to do what we want to do as a team year in and year out, eventually you're going to have to go on the road anyway, and our trips … have really given us a nice opportunity to grow as a team. And we welcome that," Caruso said.
Whether home or away, the team is thankful for the opportunity to play another week.
"it doesn't matter where we are playing. We will play in a cornfield in the middle of Iowa as long as we get to play in round three, and we are in round three, and we're happy about that."
The Tommies departed from the Minneapolis-St. Paul Airport Thursday evening and exchanged the brisk Minnesota winter for Texas' milder climate of 70s and sunny.
"It's a little different than being in the 30-degree weather for sure, but it's nothing," cornerback Mark Dowdle said. "We'll be ready for the challenge and anything thrown at us no matter if it's the weather, the heat or the team."
In Week 2 of playoffs, St. Thomas  survived five fumbles and three turnovers to outlast Berry College (Ga.) in an uneasy 29-13 victory. In the postgame news conference, Caruso called the team's ball security "gross" and "deplorable."
But Caruso said last week's offensive deficiencies will not alter the plays or personnel utilized in this week's matchup.
"I know a lot of teams turn (the ball) over more than three times in a game, but our tolerance for that is fairly low because our expectations are pretty high," Caruso said. "I know we aren't perfect and we are never going to be perfect, but we can work to be better than that."
In addition to turnovers, Caruso said that perhaps the biggest issue was the team's inability to convert on third- and fourth-down scenarios the way they normally do.
"When there is a hiccup in the rhythm, usually it comes down to that. Part of going up against a really good team is trying to make sure that we aren't in longer yardage situations when we're in those third and fourth downs," Caruso said.
Last week the Crusaders swept Lindfield in a lopsided 24-0 victory to improve their win streak to 27. Though a win on both sides of the ball, UMHB's defense is the third-best total defense in D-III and will pose a challenge for the St. Thomas offense.
"They are a phenomenal defense," Caruso said. "They do a great job in everything, and this time of the year you're facing the No. 1 team in the county and you're not going to see a lot of things that they're not doing well."
The St. Thomas defense, ranked first in total defense in D-III, will face its most resilient competitor yet this season when it confronts a successful Crusader offense that averages 400 total offensive yards per game and has accumulated 4,800 offensive yards this season.
The Tommie front seven has been nearly impenetrable, holding opponents to a 24.7 rushing yards per game average. Against the pass, the Tommies allow an average of 133.8 yards per game, good for sixth-best in the nation.
The Tommie secondary has struggled against big plays, though, and even though the Crusaders aren't widely known for their passing attack, Caruso said their offense is very "threatening and lethal."
"They do such a good job with the run game and getting you to try and overplay the run game, and then they have (two) quarterbacks that …. can pull the trigger on some really neat passes," Caruso said.
But UMHB's ability to create plays is one of their most beneficial offensive qualities.
"That what they do a really good job of. When the play is not really there they can extend that play, make it longer and create something even if that means backing up first to get to go down field," Caruso said.
Dowdle said the Tommies are excited and ready to play a "top-tier team" because the competition creates a fun atmosphere.
"I think playing those top-tier programs bring out the competitive side of us that we don't always get to see in conference play, but I think it's a good challenge," Dowdle said. "We will be ready to go."
Carolyn Meyer can be reached at cameyer@stthomas.edu.
Check TommieMedia.com and our Facebook and Twitter pages all weekend for full coverage of the Texas trip.