The Tommies defeated the Hamline Pipers 61-17 Saturday at Klas Field.
The Tommies scored five touchdowns in the second quarter, which helped establish a commanding lead. Junior quarterback Dakota Tracy threw for three touchdowns in the first half and was on the receiving end of another.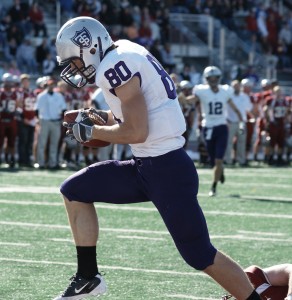 The St. Thomas offense couldn't be stopped in the first half, and the Tommie defense was stingy as usual. But it was the special teams that played an unexpected role against Hamline.
The Tommies stifled the Hamline special teams, which is arguably the strongest part of the Pipers' team. Hamline's kick returners were held in check, and the Piper's talented punter struggled to punt against the oncoming Tommie defense. The Tommies deflected one punt and almost blocked several more.
Senior Zach Sturm, senior Brady Ervin, and sophomore Jack Gavin intercepted Hamline passes. Ervin returned his for a touchdown.
The Tommies used efficiency and trickery throughout the game. St. Thomas had several short touchdown drives, including two one-play drives during the game. The Tommies also successfully recovered an onside kick and threw a double-reverse touchdown pass, in which junior receiver Nick Gleisner threw to Tracy.
Tracy finished the game with four passing touchdowns and one touchdown reception. Sophomore Logan Marks and junior receiver Fritz Waldvogel each had two touchdown catches, and junior Colin Tobin also had two scores for the Tommies.
The Hamline Pipers fell to 1-5 overall and 0-4 in the MIAC.
The Tommies improve to 7-0 and will play undefeated Bethel next week for St. Thomas' homecoming game at Palmer Field.
Dan Cook can be reached at Cook9156@stthomas.edu.