After a blowout win against St. Scholastica, the No. 3-ranked St. Thomas football team (11-0) will host Monmouth College (10-1) of Illinois in the second round of the NCAA playoffs at noon Saturday.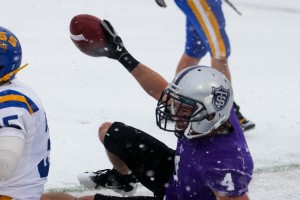 St. Thomas and Monmouth had very different first round wins. In the midst of snow and freezing temperatures, the Tommies cruised to a 48-2 victory against the Saints. Monmouth's victory was more dramatic. After trailing 17-0 in the first half, the Fighting Scots defeated Illinois-Wesleyan 33-27 in triple overtime.
The Tommies played Monmouth two years ago in the first round of the NCAA tournament, and St. Thomas won 43-21, Glenn Caruso's first playoff win as the Tommies' head coach.
Senior wide receiver Fritz Waldvogel, who took the MIAC's Most Valuable Player this week, believes this previous game will be helpful in preparing for the rematch on Saturday.
"It'll be nice to see some of the same people," Waldvogel said. "But after last season's disappointing loss in the playoffs, we don't want to overlook anybody that we've seen before."
While there are some familiar faces still playing for Monmouth, the Tommies know their opponent is a different team that has improved since the last matchup.
"They have really toned their game up," junior offensive lineman Curtis James said.
Big time quarterback
One key familiar face squaring off against the Tommie defenders will be fifth-year senior quarterback Alex Tanney. Tanney holds several records at Monmouth, including total offensive yards by a quarterback in a game (454), season (3,836) and career (10,076). He missed all of the 2010 season with an A-C joint tear in his right shoulder and was red shirted as a result.
After a full recovery, Tanney returned as the starting quarterback this season. On Oct. 28 in a game against Carroll University, Tanney set the NCAA record for all-time career touchdown passes. He comes into Saturday's game with 156 career passing touchdowns.
This season Tanney has only eight interceptions, 3,640 total passing yards with 37 touchdowns, which he is tied for second most in Division III. He averages 330 passing yards per game. In comparison, Tommie's senior quarterback Dakota Tracy has 1,903 passing yards for 16 touchdowns and eight interceptions. Tracy averages 173 passing yards per game.
Caruso knows Tanney is an excellent player who has earned all his impressive recognition.
"All of the accolades that he has are well-deserved," Caruso said.
A better, balanced team
In addition to having a solid quarterback, Caruso said Monmouth's offense is more balanced this year, which has benefited the team.
"Their offense has a very legitimate run game that puts their passing game in very navigable downs and distances," he said.
The Fighting Scots' rushing game is carried by sophomore running back Trey Yocum who has 21 touchdowns this season averaging 128 rushing yards per game.
Tanney's main target is senior wide receiver Mike Blodgett.
Blodgett has 17 touchdowns on the season and averages 156 yards per game. He has caught a pass in 44 consecutive games. In comparison, Waldvogel has one or more reception in all 47 career games.
Monmouth's defense has also improved. Caruso believes their defense has more depth and talent than they had two years ago.
Senior linebacker Rod Ojong leads the Fighting Scots' defense with 99 total tackles this season.
Success at Palmer Field
One important difference between this playoff match and the one two years ago is that the Tommies will be playing on their home turf. St. Thomas has been successful at home especially during the Caruso era. Since he became head coach in 2008, Caruso has guided the Tommies to a 22-2 home record.
James thinks playing at home will help his team because it allows the players to stick to their normal routines.
"It's so much better to sleep in your own bed before a game," he said.
'Us against ourselves'
In order to stop a Monmouth team that averages 47 points per game, Caruso believes the Tommies' success will start with stopping the run.
"It all comes back to trying to slow down that very powerful run game," he said.
The defense came up big in the 2009 playoff game against the Fighting Scots; the Tommies held Monmouth scoreless in the second half.
James thinks another key to the Tommies' success is focusing on their own growth not just Monmouth's.
"It's a battle of us against ourselves," James said. "It comes down to how well we can play against ourselves."
The winner of Saturday's game will face the winner of the St. John Fisher-Delaware Valley game on Dec. 3.
Hayley Schnell can be reached at schn3912@stthomas.edu.